Handmade Parade 2012: Come and make magic in The Enchanted Wood
Tuesday, 29 May 2012
Fancy turning yourself into an elf, a wolf , an owl or a bluebell? Open workshops for next month's Handmade Parade begin on Saturday (2nd June) with the chance to help create a unique walking wood.
This year's theme is The Enchanted Wood. Expect a place where the trees and flowers come to life, where the woodland creatures make music and grow six-feet tall. A place of myths and magic which is under threat from chainsaws and big diggers.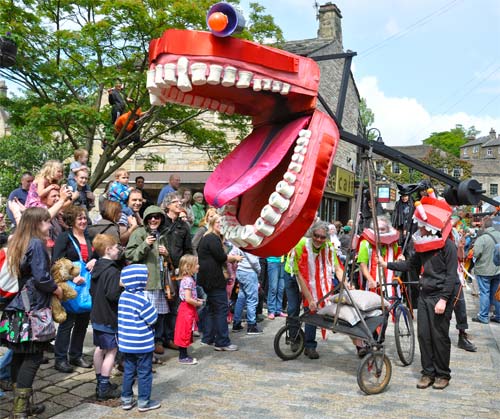 The parade will be split into four sections following The Enchanted Wood through the seasons from summer through to spring. Those going along to the workshops will have the chance to choose which section they'd like to be in and will receive expert help and guidance from professional parade artists on creating their own costume and carryable parade art.
This weekend's workshops will run from 1-4pm on Saturday and Sunday with further workshops on Tuesday and Thursday next week from 4-6pm and at the same days and times through to June 21.
Workshops will be held at unit 5, Victoria Works, Victoria Road, Hebden Bridge and will be open to anyone who wants to get involved in creating parade art, giant puppets or costumes. No previous experience is necessary, entrance is by donation and all children under 12 must be accompanied by an adult at the workshops and during the parade.
The community-generated parade, now into its fifth year, takes place at 2pm on Saturday June 23 and will culminate in a finale and festival in Calder Holmes Park from 3pm.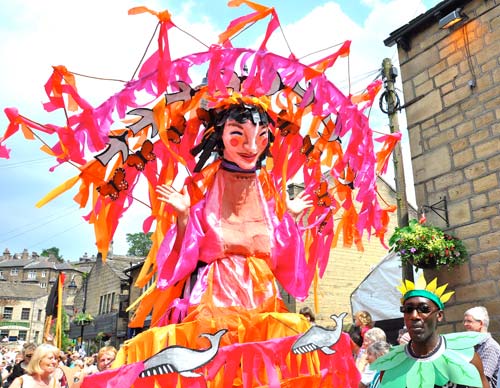 Organisers are also still looking for parade stewards to help make the parade a fun, safe and happy place to be.
Parade stewards help ensure the parade runs smoothly as it moves through the town and into the park. They need to be available from 12pm to 4pm on June 23. They'll have a full briefing on what to do and how to ensure the parade is safe for participants and the audience.
Organiser Rebecca Dearden said: "It's great fun, a fantastic atmosphere and when the whole town turns out to watch the spectacular parade, you'll be able to say you made it happen!"
There will also be special classes for teenagers and adults who want to get stuck into a new skill – from stilt-walking, joining the samba or street brass bands to making giant willow sculptures.
Organisers would also be grateful for any donations of materials on their wanted list. These include acrylic or water based paints in bright colours, lightweight cottons or synthetic fabrics in bright and sparkly colours, sequins and glitter, bamboo, garden canes, large sheets of single thickness cardboard and sets of wheels and chassis from old style prams or small trailers.
Anyone who would like to volunteer or donate materials should get in touch with the organisers at www.handmadeparade.co.uk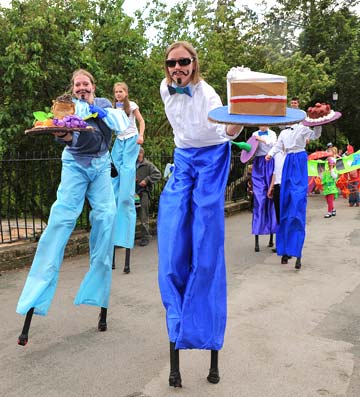 To sign up, email your name and which class you're interested in to info@handmadeparade.co.uk phone 07972 167945 or visit www.handmadeparade.co.uk for more details.
Photos
See HebWeb Gallery of photos 2011 - 2 March 2012
HebWeb Photos of Handmade Parade 2010
HebWeb Photos of Handmade Parade 2009
HebWeb Photos of Handmade Parade 2008
See also
HebWeb News: Handmade Parade 2012: Join the skills classes (1st May 2012)
HebWeb News: Parade Spark Day is a Hit (March 2012)
HebWeb News: Handmade Parade to go ahead on 23 June
HebWeb News: The Fabulous Feast delights Hebden Bridge - June 2011
HebWeb Forum thread - June 2011
HebWeb News: Handmade Parade: Get ready to make some mouth-watering food art - 7 June 2011
HebWeb News: Handmade Parade: Get ready to make some mouth-watering food art - 24 May 2011
HebWeb News: Handmade Parade will be a 'Fabulous Feast'
HebWeb News: Which will come first - the giant chicken or the eggs? - March 2011
HebWeb News - Feb-March 2011