Helen braves the weather
Saturday, 23 March 2013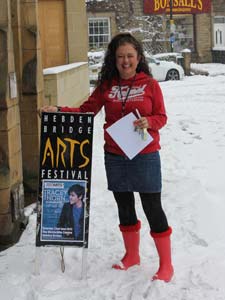 "We always do what we say!" Hebden Bridge Arts Festival told the HebWeb.
Arts Festival Artistic Director Helen Meller battled through the snow to sell tickets for the Tracey Thorn event on June 30. (Photo: Paul Clarke)
Helen braved the elements to set up a pop stall in the Town Hall and there was a steady stream of customers for the In Conversation night with the pop star turned writer at the Birchcliffe Centre.
"Despite the arctic weather and snow still falling we were determined to do what we promised we would do and we are grateful to everyone who made the effort to come in and buy tickets for this unique event.," says Helen.
Detail of the event are on the festival website and you can buy tickets priced £10 online at www.wegottickets.com.
Tracey Thorn signs up for Hebden Bridge Arts Festival
Friday, 8 March 2013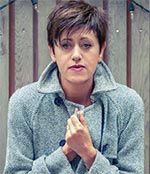 Pop star turned writer Tracey Thorn will one of the first acts to play the newly revamped Birchcliffe Centre in a one off 'In Conversation With' event.
She is booked for day one of the Hebden Bridge Arts Festival on Saturday 22 June to talk about and take questions about her new best selling memoir 'Bedsit Disco Queen' chronicling her rise from a unknown indie singer to an international superstar selling a staggering nine million albums.
"For many people along the valley Tracey is an iconic figure who is best known for her distinctive voice in Everything But The Girl, but her new book proves she is just a good a writer as she is a songsmith," says Artistic Director Helen Meller.
"As her recent Radio 4 readings prove Tracey is a funny and engaging performer , and we're delighted that the Birchcliffe Centre has agreed to put it on as one of the very first shows in their brilliant new space."
Caitlin Moran has described Tracy as 'the Alan Bennett of pop Memorists.'. It is the unlikely tale of a shy suburban girl who forms a band at Hull University with the future husband Ben Watt called Everything But The Girl who then record massive hit albums, including their classic debut 'Eden' and 'Idlewild' and 'Amplified Heart.'.
Along the way she had to deal with Ben contracting a life threatening disease before the Todd Terry remix of Missing became an unexpected worldwide hit that shot up to Number Two in the US. Tracey tells the story in her typically downbeat beat and self-depreciating way explaining why at the height of their fame she decided tp turn her back on it all to start a family.
Despite the odd collaboration with the likes of trip hop gurus Massive Attack it is only recently that Tracy has returned to music with two critically acclaimed solo albums, and she released a Christmas album 'Tinsel and Lights' in 2012 which ended up on many critics' best of the year lists.
Tickets for Tracey Thorn priced £10 will be available at a special Arts Festival pop up event at Hebden Bridge Town Hall on Saturday 23 March frpm 9am or online at www.wegottickets.co.uk.
Previously, on the HebWeb