Tuesday, 29 April 2014
Update:
Tickets for a UK performance by theatre provocateurs The Tiger Lillies will be sale this weekend in the Town Hall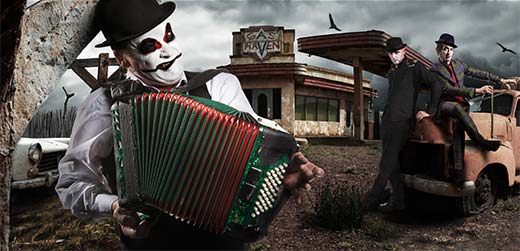 Hebden Bridge Arts Festival are holding the first of their pop up box offices from 12 noon to 4pm to make sure locals get first shot at tickets for the Picture House show that are going to be snapped up by their army of fans.

Artistic Director Helen Meller said: "Our policy for events which are likely to sell out very quickly is we have a pop box up office solely for local people who put so much into the festival.

"We have inquiries from all over the country about this event so after this weekend they will go on general sale so we are advising locals to come down this weekend to bag their tickets."

The Tiger Lillies have carved out international reputation for creating dark and beautiful songs, and have just finished a critically acclaimed sell out run of 'Lulu: A Murder Ballad' at West Yorkshire Playhouse.

'The Worst of the Tiger Lillies' show is their UK performance of this show at Hebden Bridge Picture House on 4 July.
Thursday, 10 April 2014
The Tiger Lillies play one off show at Hebden Bridge Arts Festival
Internationally renowned musical provocateurs The Tiger Lillies are performing a one off greatest hits set for Hebden Bridge Arts Festival.
The trio have just finished a sell-out world tour of their latest opera 'Lulu: A Murder Ballad' and are doing a UK exclusive show they have dubbed 'The Very Worst of The Tiger Lillies' on Friday 4 July.
Arts Festival director Helen Meller said: "I first saw The Tiger Lillies in the King's Head in Islington in the '90s and have been a massive fan ever since.
"Anyone who has ever heard singer Martyn Jacques' eerie falsetto will tell you they are an incredible live act and to have them playing here in Hebden is a massive coup.'
They first burst onto the scene in 2002 when their cult musical Shockheaded Peter was nominated for five Olivier Awards. They picked up an Olivier for Best Entertainment and Jacques took home the gong for Best Supporting Performance in a Musical or Entertainment.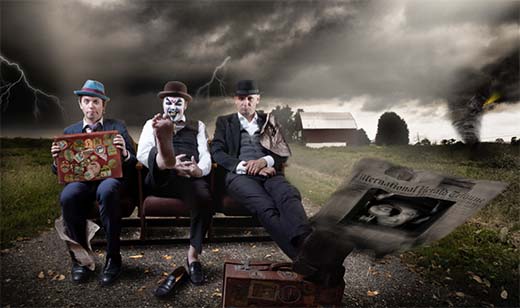 Since they then have created an idiosyncratic world described as 'Brechtian Punk Cabaret' recording 34 albums and over 600 songs. Their music is a mixture of pre-war Berlin cabaret, anarchic opera and gypsy music and runs the gamut of human experience.
Helen says: "There is going to be huge regional and national interest in this unique show, but as always we going to sell tickets to local festival goers first at a pop up in the Town Hall next month on Saturday 3 May."
Previously, the Festival on the HebWeb