The Alternative to Sainsburys in Hebden Bridge
Monday, 8 September 2014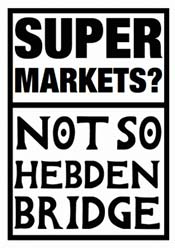 At 7pm next Tuesday 16th September, Calderdale Planning Committee will decide the future of the Valley Road Site in Hebden Bridge, the site of the former fire station. Will it be guided by the narrow confines of planning law and argue that because there had been planning agreement for little shops on Valley Road then there has to be planning permission for one big shop, or will it act imaginatively and create the possibility of a new vision for the Valley Road site by rejecting the application?
Will the committee, made up of councillors who don't live here except for our own Alison Miles, ignore the expressed wishes of the Hebden Royd Town Council who voted against the proposal? Will they ignore the wishes of the 500 who have objected, almost 10% of the local population? Will they ignore the small shop keepers who have SOS posters in their windows?
According to Bob Deacon, chair of the Hebden Bridge Partnership, speaking to the HebWeb in a personal capacity, there is an alternative imaginative scheme for the improvement of the whole of the Valley Road site. "The whole area, the current car park owned by Calderdale, the vacant Fire Station site and the ugly Telephone building (which is only fit for demolition) could be redeveloped to create a better car park (a small well designed multi story or underground), affordable housing (some of the land being transferred to the new Calder Valley Community Land Trust), an open space onto which the local café's could spill and small shop or artists' units.
"If the planning committee confirm the planning officer's timid recommendation to bow down to the powerful Sainsbury business then all this will be lost. It won't be the end of the world but it will be a sad day for Hebden Bridge. It will have lost some of its special character. It will also make nonsense of the new Localism Act which HRTC is now planning to use to develop an imaginative Neighbourhood Plan."
Bob Deacon is urging the 500 signatories to letters of objection to to turn up at 7pm. on Tuesday 16th at the Town Hall in Halifax and shout their opposition. "This might just influence the required majority of councillors to ignore their timid officer and support the views of those who live here. Once rejected then the Hebden Bridge Partnership, the Town Council, Calderdale Council and the developers can get round a table and start being creative."