Come Fly With Us!
Wednesday, 22 April 2015
Is it a bird? Is it a plane? Is it an alien space ship over Calder Holmes Park? In fact, it will be all of those things when the 8th annual Handmade Parade flies into Hebden Bridge on Sunday 7th June.
This year's theme is Come Fly With Us! and whether you'd like to take to the air in a flying machine, wing it like a bird or fly your kite in the wild winds, this is your chance to take the streets of Hebden by storm.
The parade will set off at 12noon from the Handmade Parade workshops in Victoria Road and head down Valley Road, through St George's Square and Bridge Gate to finish in Calder Holmes Park, where there will be entertainment and food stalls from local vendors.
Linda Green, Chair of Handmade Parade CIC, told the HebWeb, "Lots of people tell us the parade is out of this world and this time we're going to prove it by having alien space ships, spacewalking families, rocket packs and meteors.
"If you'd like to stay a little bit closer to earth, you could take to the skies as one of the Red Arrows tailing smoke or you might like to join a flock of birds or try to get off the ground in a flying machine.
 
"And if flying a kite or floating in a hot air balloon is more your kind of thing, there'll be a chance to do that too – but watch out for the storm clouds and thunder claps!"
Open workshops for people to go along and create their parade art with the help of professional artists from Handmade Parade will begin on May 16 and run at weekends from 10am-12noon and 2pm-4pm, Tuesdays and Thursdays from 4pm-6pm, except during half term on May 26 and 28 when they'll be from 1pm-3pm, and there will be extra evening sessions for teens and adults on June 2 and June 4 from 7pm-9pm.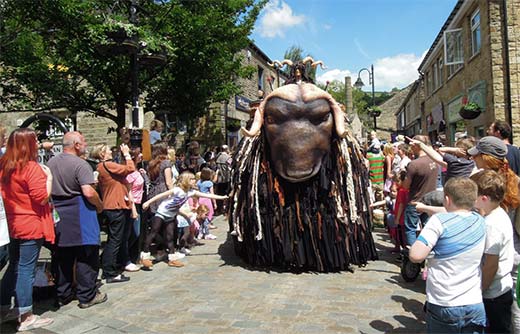 Organisers are looking for food vendors who have a 4 or 5 food hygiene rating and produce or promote tasty locally produced food and drink. For more info email Kate.
The Handmade Parade brings thousands of visitors to the town and last year's event was featured on the flagship BBC children's programme Blue Peter.
Previous themes have included a Deluge of Delights, the Glorious Garden Party, a Hop, Skip and a Jump, the Fabulous Feast, the Enchanted Wood, Myths, Mysteries and Mayhem and the Endangerous Expedition and have inspired creations such as bees on scooters, fluorescent aliens, stilt-walking geese and a mechanical spider.
To volunteer or for more info on the parade and workshops, go to www.handmadeparade.co.uk