Tour de Yorkshire
Sunday, 26 April 2015
Next Sunday, the Tour de Yorkshire will pass through Hebden Bridge. Travel and parking plans are being finalised across Calderdale.

The peloton is expected to reach our area around 2.05pm on Sunday, 3 May, racing down Cragg Vale at around 2.35pm and then on to Hebden Bridge, up through Nutclough and Pecket Well before exiting the area at around 2.50pm.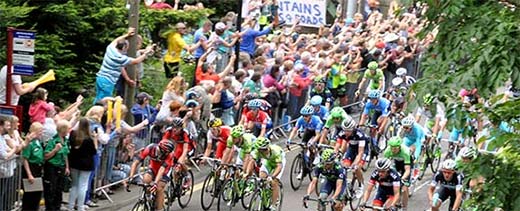 Unlike last year's Tour de France, when roads were totally closed for several hours, the Tour de Yorkshire has a rolling closure. This means that police motorcycles ride ahead to close off junctions and stop oncoming traffic. The roads close around 30 minutes before the cyclists are due to pass and open up almost immediately behind them but this may be longer in areas where there are large crowds, so spectators please take care.
Roads will be busy on race weekend, so allow plenty of time to get to your viewing spot. There are a number of Council car parks close to the route, but please note that St George's Square Car park in Hebden Bridge will be closed on race day, as a market is taking place there. There will be a clearway order along the route and all residents who have received a letter will be required to move their vehicle from the route.

For further information and advice to help you plan your day, Calderdale Council has produced a spectator guide called The Little Pocket Tour de Yorkshire Guide. This colourful, pocket sized fold out guide, gives you all the information you need to plan ahead and make sure you get the best experience possible.

It also includes a handy map of the area, including the Tour de Yorkshire route, rail and road links, plus larger car parks. The guide is available in Tourist Information Centres (TICs) in Halifax and Hebden Bridge.

On race day, don't forget to follow @innercyclist on Twitter, who will be tweeting live, giving up to the minute information.
Nearly £7000 has been awarded to voluntary groups to help them stage events to celebrate the Tour de Yorkshire coming to our area.

A cycling stunt show, song writing workshops and a community picnic are just some of the exciting activities that people will be able to enjoy, thanks to a fund created by Calderdale Council to support local events linked to the Tour de Yorkshire, to help get communities involved and boost visitor numbers.

Just like the Yorkshire Festival ahead of last year's Tour de France, local events will play a big part in the inaugural Tour de Yorkshire, showcasing all that's great about Yorkshire and Calderdale's arts and culture. The Council's events fund shows its commitment to continuing the cultural legacy and reaping the benefits for tourism in the borough.

Cragg Vale Community Ltd: The Council awarded £300 towards the cost of the Tour de Yorkshire celebration on Spaw Sunday on Sunday 3 May. This is a traditional event held on the first Sunday in May which involves a tour of local spas or springs, accompanied by Morris dancers and folk singers. This year it will coincide with the Tour de Yorkshire coming through Cragg Vale. It will involve local people, including schoolchildren and businesses, and there will be a community picnic.


See also:
Visit Calderdale Tour de Yorkshire page
HebWeb News: Tour de Yorkshire (Jan 2015)
HebWeb Tour de France section