Tuesday, 9 June 2015

The Rise and Fall of a Northern Star
Look back at Manchester through Stella Grundy's new play
Manchester music fans are about to get a reminder of that iconic time from pop singer turned playwright Stella Grundy who was witness to the massive excesses of that era.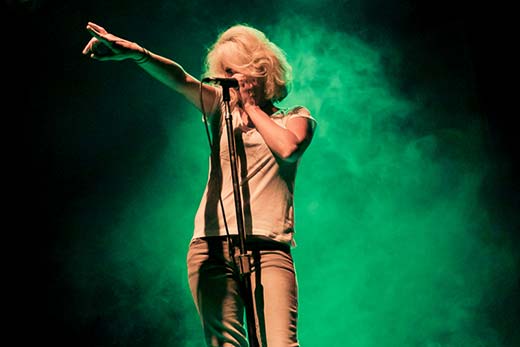 Her one woman play The Rise and Fall of a Northern Star uses some of her own experiences as front-woman of Intastella who were one of the Manchester bands who missed out on being stars before imploding.
"It's about a character, Tracy Star, that may or may not have existed, who was in a band during the Madchester times when all of the attention was on Manchester," says Stella. "She got swept up in it, got a record deal and it's about what happened to her.
"It's a story about those who didn't make it, who aren't remembered, but got involved in all the madness. It is a wry look at the music business from a female point of view, and somebody who had a little bit of a dabble, nearly made it but didn't quite do it.
"There are nine original songs which is now a concept album that stands up on its own. I wouldn't compare myself to David Bowie, but it's like Ziggy Stardust so I'm bringing some of the theatre back into music which I loved."
Grundy's self-penned play is being staged by Hebden Bridge Arts Festival in the Little Theatre, but given Grundy's history how much of it is autobiographical?
"People say how much of that is you after they've seen it, and it's more interesting to leave that a little bit open. A good proportion definitely happened to me, to peers of mine or people I knew. Some of it is that kind of myth, the stuff that journalists write, which gets repeated so often it actually become true and people start to believe their own press"
The Rise and Fall of a Northern Star was booked by the festival team after pressure from local music lovers who felt it was the right time to look back at a musical movement that catapulted The Stone Roses and Happy Mondays to worldwide fame.
"There are lots of people in Hebden Bridge who have migrated from Manchester who lived through those times and others who were at the legendary Stone Roses gig at Spike Island who told us about Stella's play," says Artistic Director Helen Meller.
"Stella also tackles the sexism that still blights the music industry, and she is getting rave reviews because she had a front row seat to history as her home city became the centre of the musical universe."
The Rise and Fall of a Northern Star plays Hebden Bridge Little Theatre on Monday 29 June.
Tickets are available from the Festival website or from the festival box office in the Town Hall which is open daily.
Previously, the Festival on the HebWeb