Terracotta Army comes to Hebden Bridge!
Tuesday, 8 December 2015
Northlight Art Studios in Hebden Bridge, with the help of a massive community effort have made their own 'Terracotta Army'!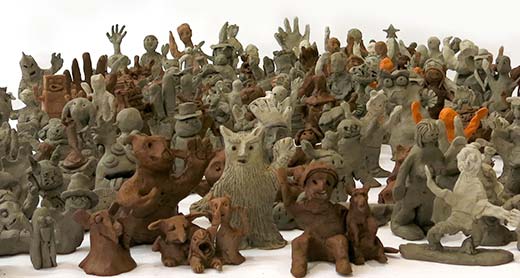 The Crafts Council and BBC Get Creative joined forces to present Hey Clay! in a national celebration of clay, giving everyone the chance to unleash their inner potter.
As a 'Hey Clay!' venue, Northlight ran a marathon drop in workshop through their Winter Art Fair weekend to make an army of waving clay figures.
The initiative also involved a Skype link up with the famous Leach pottery in St Ives… so all our clay figures can wave to each other! At the last count, Northlight had made 232 figures which represent hundreds of people taking part in this great community event.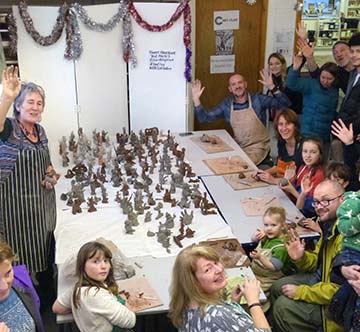 Interest in ceramics is really on the increase, especially with the popularity of the BBC's 'Great British Throw Down' competition. Northlight Art Studios are one of the few venues able to offer professional tuition and facilities and are currently running four successful classes for people of all abilities plus 'hotdesking' opportunities for the more practiced to access the facilities.
As well as ceramics, Northlight has also just launched its new Spring Term programme which starts on 11th January. There are classes for all abilities covering many aspects of Painting and Drawing, Life Drawing, Stained Glass, Printmaking and Creative Textiles. Also on offer are a wide range of day workshops and master classes taking place at weekends.
2016 will also see the start of the 'Young Northlighters' sessions aimed at Young Artists aged 9-15. These Tuesday tea-time sessions will give young people the chance to work with professional artists to experiment and really develop their skills through a range of media… of course, including clay!
Places on Spring term courses can be booked now.
More details can be found on the Northlight website.
Visit www.northlightstudio.co.uk.
Email or phone 01422 843519
Previously, on the HebWeb
HebWeb News - Northlight launch new Autumn term programme of Art and Craft courses (Aug 2015)
HebWeb News - A new term and new premises at Northlight (Dec 2014)
HebWeb News - Northlight Launches its Autumn Term programme of creative Courses (Aug 2014)
HebWeb News - A Summer of Artistic opportunity at Northlight Studios (June 2014)
HebWeb News - New Spring Term of Creative courses and big news from Northlight (Dec 2013)
HebWeb News - The 'Back Door' at Northlight Art Studios - an art studio for the community! (Aug 2013)