News in Brief 2015
Hebden Bridge in The Guardian: "New school in Hebden Bridge to teach children using yoga and meditation" - see below for HebWeb news story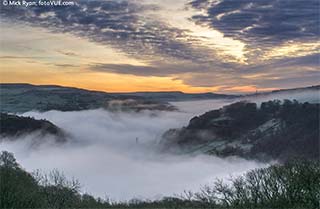 Calder Valley Search and Rescue team now safely returned home after helping in Cumbria. See their report

Don't Bomb Syria vigil in George's Square. A one minute's silent circle was observed. More protests are expected - follow HebWeb for details. Click photo to enlarge. Banners included 'Love not War', 'Schools not bombs' and 'Save Syri with aid not bombs'. Photo: Mike Barrett. 28 Nov
Hebden Royd Town Council wins Living Wage Employer Award. Read more
Flood warning sirens were tested at 2.45 pm on Thursday. 12 Nov
Guardian on HB Times and Tod News merger - at the last audit in 2012, the HB Times was selling a little more than two and a half thousand copies a week. (The number who visit the HebWeb each week is much much more)
St Augustine Centre in Halifax, who help settle refugees, is the Mayor's Charity this year. Read more 9 Oct
Second New Mayor this year for Hebden Royd Town Council. Deputy Mayor Cllr James Fearon has taken over from Cllr Karl Boggis who has stood down for family reasons. Read more 25 Sept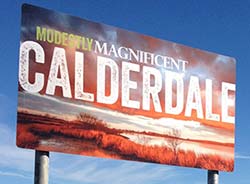 Community Funding grants Hebden Royd Town Council is keen to hear from local community organisations who need financial support. Read more. Six new boundary signs have been installed featuring photographs of Calderdale, using Calderdale's pretty gritty branding, featuring phrases such as 'ruggedly sophisticated'. Click image to enlarge. 18 Sept
The First Film - with Q&A. Was the film industry born in Yorkshire? That's the question asked by David Wilkinson in this enthralling documentary into the origins of cinema. Picture House. 9 Aug. See What's on.
Move Parliament to Hebden Bridge, argues Professor Tony Travers in today's London Evening Standard. "With both MPs and peers in Parliament and the Queen in Buckingham Palace facing the possibility of decamping while renovations are made to their historic homes, is it now the time for power to shift in the UK?" To Hebden Bridge? Read article 25 June
Open Studios Weekend: over 90 local artists will be opening their studios and homes. 3-5 July. See What's on.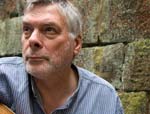 Long-lost letter from John Lennon to Hebden Bridge's Steve Tilston inspires an Al Pacino movie. Sent to the folk-singer in 1971, the letter didn't arrive for 34 years but now the story has inspired Hollywood film Danny Collins. Read Daily Mirror article (7 May)
HebWeb reader Andrew Bibby has told us that Roy Palmer, whose obituary is in The Guardian, as well as being the author of some inspirational books on folk music and working class song, was also for a time a teacher at Calder High and a Calder valley (Colden) resident. (20 April)
Duck Race on Easter Monday: thousands enjoy the Easter sunshine. Photo from Craig Shaw. Click to enlarge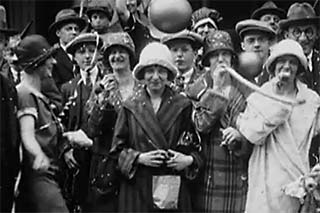 The 'Handmade Parade' of 90 years ago. See 2 min video of the 1924 Hebden Bridge Carnival from Yorkshire Film Archive, together with background info.
NatWest Hebden Bridge branch closed on 24 February. NatWest blame falling numbers and say the cash machine will remain for now.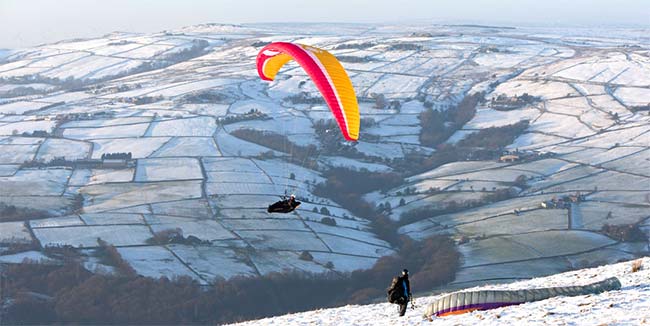 Above: Stoodley Pike photographed by Craig Shaw of Blu Planet Photography, capturing the first real snow of winter.
One woman protest in the Square - Christine Drake explains to HebWeb readers why she is there - "in solidarity with the Palestinians" - and recounts some of the abuse she has suffered during her 6 months of demonstrating. See HebWeb Forum thread 21 Jan
Australian View of Hebden Bridge: from The West Australian - "This once-dying mill town reinvented itself as a beacon of alternative living; a quirky commuter hub where artists, writers, hippies and new-age gurus rub shoulders with teachers, estate agents and earthy Yorkshire folk". Read the article. 16 Jan
Craig Whittaker's Wikipedia page edited anonymously from the House of Commons. A reference to our MP's arrest for allegedly assaulting his son outside a petrol station was deleted, along with his claim to not know about the future of A&E. See the Wikipedia edits and this page from The Political Scrapbook (26 Jan)
House prices: "Often seen as the poor relation to its trendy neighbour, Hebden Bridge," Todmorden has registered the biggest house price rise in Yorkshire over the past six months. See Yorkshire Post article 14 Feb
Buried at Sandy Gate: Two long-forgotten graves of leading 19th century co-operative figures have been made accessible to visitors, thanks to efforts taken by a community-based co-operative - CROWS. Read article in Cooperative News
Green Party Information stand yesterday in Hebden Bridge - click photo to enlarge. Photo thanks to the new After Alice Project using non-digital photography. (CC BY-NC, by 'H' Gregg) 8 Mar
Happy Valley tops Radio Times critics' poll. The magazine's TV editor Alison Graham called the Yorkshire-based programme (filmed in Hebden Bridge and upper valley) "bitingly raw" and said its writer Sally Wainwright and lead actor Sarah Lancashire had "never been better".
See BBC news item

eBook from Pennine Pens - Theatre in a Time of Change - by Hebden Bridge's Michael Prior. This is not a book about stars and plays, but about the rise and fall of the theatre as a cultural and economic art-form since 1945. Read more
Hebden Bridge features in The Times list of trendiest cities, villages and market towns in which to live.
Internation Women's Day Flash Mob in the square, Hebden Bridge. Click here to see more of Craig Shaw's photos of the event. Click here for a video of the event.
Schools rebuilding: Craig Whittaker secured an adjournment debate in Parliament on 9 March over the need to rebuild Calder and Tod High schools. He got short change from the Education Minister. See Parliamentary report 10 March

Lindsay Rimer: 20 years after Lindsay's body was found in the Rochdale Canal, her sister Katie, has spoken publicly. "From the beginning we have been filled with grief and we cannot stop the grief and instead, remember her with love until this comes to an end," she said. See BBC report and HebWeb Feature
Eddie Izzard enjoying the Hebden Bridge sunshine, campaigning with Labour candidate, Josh Fenton-Glynn (21 April)

Eclipse of the sun: Local photographer Bev Manders took this photo from Calder Holmes park. With glasses or filters, the eclipse was visible for most of its duration here in Hebden Bridge. 20 March
Parking chaos at Sainsburys in Mytholmroyd - YouTube video from Jason Elliott 25 March
Tour de Yorkshire through Pecket Well - above photo from Jill Liddington: see also, this YouTube video from Jason Elliott. (3 May)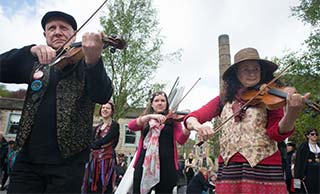 Musicians were all over the streets of Hebden Bridge for the weekend of the Folk Roots Festival. Photo: Bruce Cutts
Distasteful Craig Whittaker tweet row

Following uproar on Twitter and Facebook, the row has reached ITV, the Mirror and the BBC. See BBC news item (5 May)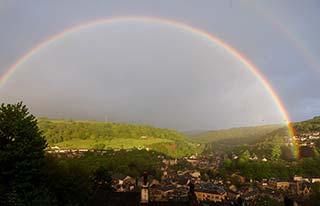 Nicola May, the only Conservative councillor elected to Hebden Royd Town Council has been disqualified for not accepting the post within the prescribed time period.
Craig Whittaker a Mormon? At the swearing in of MPs, our MP requested the Book of Mormon to pledge allegiance to the Crown, according to this BBC News report (21 May)

Wadsworth Boundary Walk took place on Sunday, 31 May. Wadsworth is the second largest parish in the country. See What's on for more info about this and other events.
BBC News: West Yorkshire Police to get £1.5m to review 'cold case' murders, including that of Hebden Bridge's Lindsay Rimer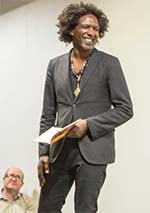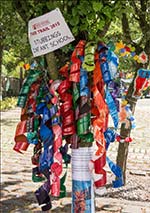 Arts Festival - Above: photos from Craig Shaw of first couple of days of Arts Festival: Poet Lemn Sissay and part of the trail of decorated trees throughout the town centre 28 June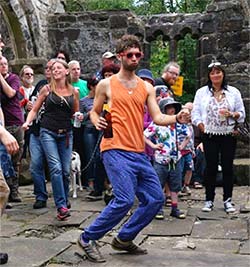 Heptonstall Festival: graveyard fun in the old church ruins, on 4 July. Thanks to Bev Manders for the photo.
Jeremy Corbyn's bid to be Labour Leader now has the support of Calder Valley Labour Party. (28 July)