Visit the old fashioned portrait studio in Weavers' Square
Tuesday, 22 March 2016
This Easter Saturday, why not get out your best bib and tucker, grab your festive bonnet, and bag your place on the vintage bus heading up to Heptonstall for Family Day! Weavers' Square and its surrounds will be filled with stalls and activities of every sort - and absolutely everything will be under marquee tents in case the weather misbehaves.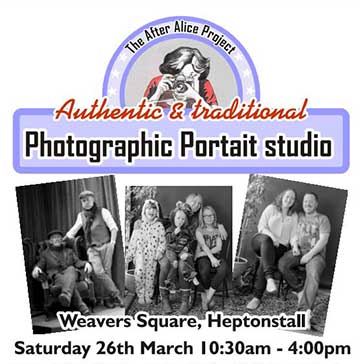 As an added attraction this year, the After Alice Project will be hosting a vintage-style photo-booth where you can have your Bank Holiday portraits taken on old-fashioned film. The Project takes its name from Hebden Bridge's renowned photographer, the late Alice Longstaff, and is continuing her tradition of recording local life at work and at play.
Alice and her predecessors at the West End Studio made portraits of local business-owners, of couples getting engaged or getting married, of Christenings, birthdays, graduations, apprenticeships, retirements - in fact, of any occasion deemed worth of celebration; and as soon as the wooden-shed studio behind their shop could boast new-fangled electric light, they specialised in hand-tinted costumed portraits for special occasions with glorious gowns, nice new frocks, deeply dapper suits, and truly splendid hats! So where better for After Alice to start afresh than with your Easter bonnets!
The 19th and 20th century portraits taken by the first photographers in the Upper Calder Valley are quite remarkable: modern faces you almost seem to know gaze straight at the camera and only the clothes and hairstyles tell you they really belong to yesteryear. Now you, your family, friends, and even pets, can make your 21st century portraits in true vintage style. (There'll even be a few dressing up items to help you get in the mood!)
Your finished portrait – wet-printed on proper professional photography paper – will be posted out to you, or can be picked up from the After Alice offices in Salem Mill behind Hebden Bridge's Co-op. All negatives from the shoot will be lodged in the After Alice community archive in which the Project is preserving a growing record of today's Calder Valley.
See also:
HebWeb News: After Alice - 1,000 Photo Exhibition in Hebden Bridge(7 Dec 2015)
HebWeb News: The After Alice Project Open Day (10 June 2015)
HebWeb News: Arts Festival backs After Alice (19 May 2015)
HebWeb News: The After Alice Project (11 March 2015)