Thursday, 21 April 2016
Theme announced for Handmade Parade 2016
Hebden Bridge is in for a treat this summer when the town centre will be taken over by the 9th Handmade Parade, organisers are delighted to announce the theme will be 'Muck In'.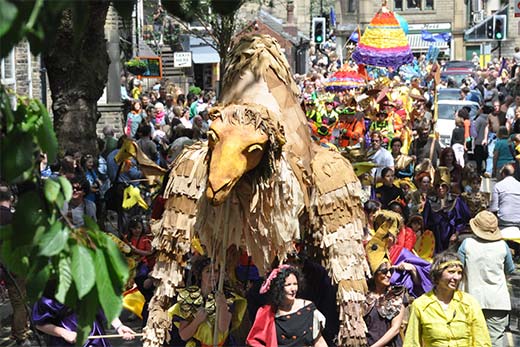 Artistic Director of Handmade Parade, Andrew Kim said, "The 'Muck In' theme aims to capture the spirit of the 2015 Boxing Day flood, celebrating the heroic super human effort from everyone to rebuild our local communities. The emphasis is on fun and in enjoying the ridiculous. We'd like to thank everyone who came along to the Spark Day to help decide the theme for this year.
Executive Director of Handmade Parade, Kathleen McGrath added,
The carnival we hope, will highlight the renewed vibrancy of the town after the disaster, shining a light on the community claiming back the right to dance down their streets again."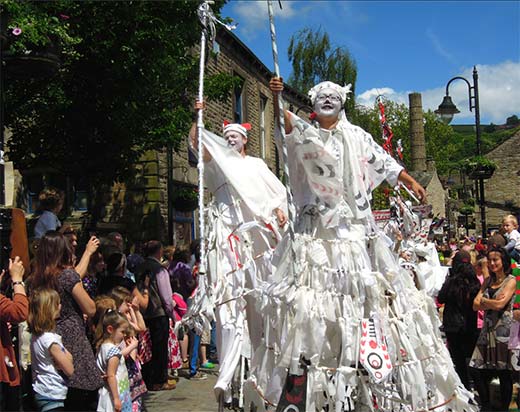 The Hebden Bridge Handmade Parade is an annual masquerade of fun for all.
There will also be an exciting residency co-commissioned by the Yorkshire Festival. With Russian artists from Cardboardia bringing their sense of cardboard art, politics and play to the Hebden Bridge carnival. This will be the debut English performance by Carboardia an internationally renowned company.
Executive Director of Handmade Parade, Kathleen McGrath said,
"This will be a flood event guaranteed to have something for everyone putting smiles back on all our faces."
Open Workshops
Creating costumes, carryable art, giant puppets as well as stilt walking, samba drumming and dance workshops June 4 to June 24.
Parade.
With 3 weeks of open workshops involving local artists, families, volunteers, guest artists and amazing street bands. Culminating in a spectacular event for up to 1000 people to dance down the streets of Hebden Bridge watched by thousands more.
Parade Dates
Sunday 26 June at noon followed by a Picnic in the Park 1-4pm.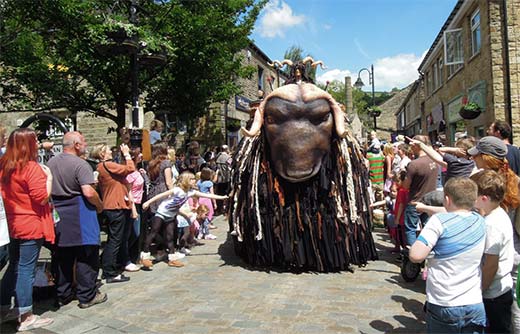 Yorkshire Festival
Yorkshire Festival's Artistic Director, Matt Burman, said, "We are thrilled to be commissioning this new work with Handmade Parade as part of the epic, bold and game-changing Yorkshire Festival 2016. Expect the unexpected with world-class performances, UK and world premieres and exclusives, and even an attempt to break a world record. The Festival will reach the whole of our great, beautiful county across 18 days this June and July. Make sure you come and be part of it!"
Sir Gary Verity, Chief Executive of Welcome to Yorkshire said, "Yorkshire Festival is set to be one of the most exciting cultural festivals this county has ever seen and will really keep momentum going after the Tour de Yorkshire. Make no mistake, Yorkshire really is the place to be this summer!"
The Yorkshire Festival is the UK's newest international festival. It will build on the resounding success of the first edition in 2014 and promises world premieres and UK exclusives with spectacular outdoor performances as well as music, theatre, arts and dance from theatres to clubs.
This year's Hebden Bridge Handmade Parade is also supported by Arts Council England, Hebden Royd Town Council and is working in partnership with the Hebden Bridge Arts Festival and Calderdale Council.
For more information about this year's parade please go to: the website
See also:
HebWeb News: Handmade Parade Spark Day: ideas needed for Summer Spectacular 24 Feb 2016
HebWeb News: Announcing the 9th Annual Hebden Bridge Handmade Parade! 3 Feb 2016
Previous coverage of the Handmade Parade on the HebWeb