Electric Bike launch in Old Town
Thursday, 28 April 2016
The Hare & Hounds Inn on Saturday 30th April from 2.00-4.00pm
We:cycle electric bike membership scheme is launching the first of the hubs at Old Town this coming Saturday, 30th April at the Hare and Hounds pub at 2pm.
We:cycle is one of 12 UK wide electric bike share pilot projects which is being set up to make electric bikes available to people and is funded by the DfT and Calderdale Council. It uses top-of-the-range Raleigh Motus, electric-assisted  bikes to help people tackle the sort of hills we have in this area.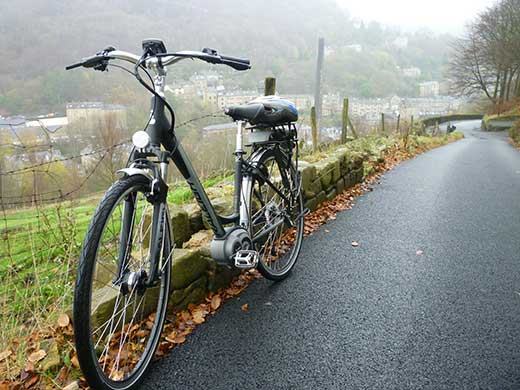 The we:cycle e-bikes are affordable to hire, come with full instructions & equipment and are accessibly sited in community buildings across the valley. Local people are invited to join the membership scheme and book a bike on the www.wecycle.org.uk website.
The Old Town hub, based at the Hare and hounds Inn at Old Ton will be followed by hubs at the Cross Inn, Heptonstall, New Delight, Blackshawhead and Jerusalem Farm in Booth over the coming weeks.
People interested in buying an electric bike can take advantage of the scheme's Hire to Buy service, whereby they can rent a bike at a reduced rate for a month  before deciding to purchase or not. If they do decide to buy, they will be offered the bike at a reduced price.
Paul Forrest, we:cycle project manager, told the HebWeb,"This part of the Pennines is a tough challenge for cyclists but these bikes make it surprisingly easy. You really can go further and explore quieter spots on an e-bike!"
Previously
HebWeb News: Electric Bike Revolution Begins! 18 March 2016
HebWeb News: eBikes on the Hill Tops 15 December 2015