Tuesday, 17 May 2016

Banner bags from the Arts Festival
The Hebden Bridge Arts Festival has emphasised its green credentials by recycling all their old publicity banners by turning them into desirable shoulder bags.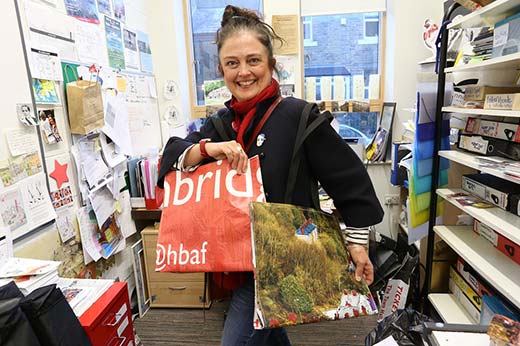 Every year the festival produces a range of vinyl banners to advertise its programme and they were just gathering dust in their Town Hall office until they hit on the idea of turning them into bags.
So they sent their scrap publicity materials off to specialist recyclers Banner Bags from Nelson, who are part of the Carradice group have been making high quality bike bags for over 80 years in their mill. Their skilled craftspeople cut up the banners up before stitching them back into bags and each design is a guaranteed one off.
Arts Festival Artistic Director Helen Meller told the HebWeb, "We've tried lots of different ways of re-using our banners but it was Helen Baron from Ribbon Circus who gave us the idea last year when she ran a banner bag making workshop as part of the festival.
"Then we discovered Banner Bags just down the road in Nelson and they've done a brilliant job of turning the banners into beautiful bags. So we get to support a fantastic local company, recycle our old banners and generate some funds for our free community events."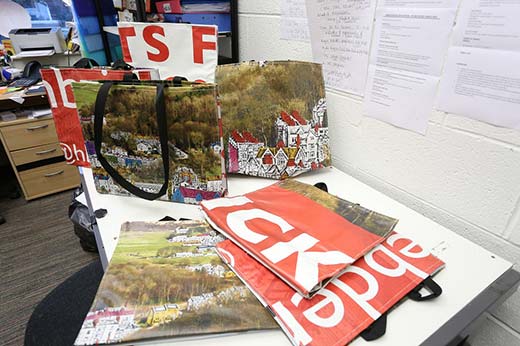 The banner bags priced £15 are available from the Arts Festival box office in the Town Hall every day until the programme opens on Friday June 24.
Hebden Bridge Arts Festival runs from Friday 24 June to Sunday July 3.
More info at www.hebdenbridgeartsfestival.co.uk and the box office is open daily at Hebden Bridge Town Hall.