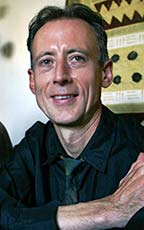 Peter Tatchell says Happy Valley Pride is long overdue
Sunday, 7 August 2016
Legendary human rights activist Peter Tatchell has risked life and limb in his battle for human rights for LGBTQ people and he is coming to Hebden Bridge to support the first Happy Valley Pride.
"I was sort of surprised there hadn't been a pride event in Hebden Bridge already given the long standing LGBT community in and around Hebden Bridge and this year's event is long overdue," Peter Tatchell told Hebweb. "I hope it will be the first of many and that our straight friends and allies will join in the celebrations."
Since arriving from Australia, Peter Tatchell has never taken a step back in fighting for LGBTQ rights challenging prejudice in this country and around the world. His refusal to stay silent has seen him beaten up by National Front Thugs in the 1970s, assaulted by Robert Mugabe's henchmen and hospitalised by neo-Nazis in Russia.
His courage means he is a sought after public speaker, and it is a real coup for Happy Valley Pride to land such a high profile guest for their first event.
"It's really important to support newer, smaller pride events not just those in the big cities like London and Manchester," notes Tatchell. "I'm really excited that local people have got together to set up Happy Valley Pride to bring the message to their local community. Celebrating local LGBT communities, and having LGBT visibility in local streets and neighbourhoods, is hugely important to show it isn't just a metropolitan big city thing,
"Pride events like Happy Valley are a celebration and affirmation of LGBT people and the contribution they make to local communities."
Peter Tatchell will be speaking about 'The Unfinished Fight for LGBTQ Rights' at the Birchcliffe centre at 4pm on Saturday 13 August, Limited tickets are still available from www.happyvalleypride.com or from Hebden Bridge Town Hall.