Mytholmroyd Arts Festival lights up the village
Wednesday, 19 October 2016
The Mytholmroyd Arts Festival weekend 14th-16th October lit up the village with a celebratory exploration of the four elements: air, earth, fire and water.
In the sell-out poetry evening 'Paper/Scissors/Stone', with MC Winston Plowes, contributors held the audience enraptured. It was a perfect precursor to an action-packed weekend.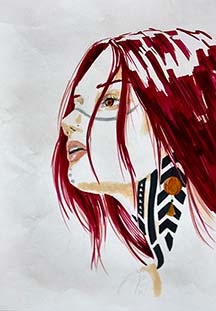 Throughout the Festival there was a fantastic array of artwork to be discovered all around Mytholmroyd as 'Living Rooms' sprang up in unexpected places. Artists and makers welcomed visitors into their studios and homes, showcasing the tremendous variety of work produced by the local creative community. The Schools' Art exhibition confirmed that this vibrant tradition is set to continue. Winner pictured right.
The recent tour of short film 'Calder' concluded with two screenings to a full house at the Community Centre. Outside, the Night Market rounded off Saturday's events in spectacular style with mesmerising walk-about performances from Calvos. As the moon rose over Mytholmroyd an enthusiastic crowd was treated to an unforgettable fire show finale from FlameOz.
Sunday marked the launch of the Mytholmroyd Arts Activity Trail, which will be an ongoing legacy from this year's Festival. Trail-walkers had fun trying out different approaches to drawing, photography, sculpture and poetry at four artist-led workshops located along the route. See photos from the day and plan your own day out on the Trail via www.myarts.org.uk.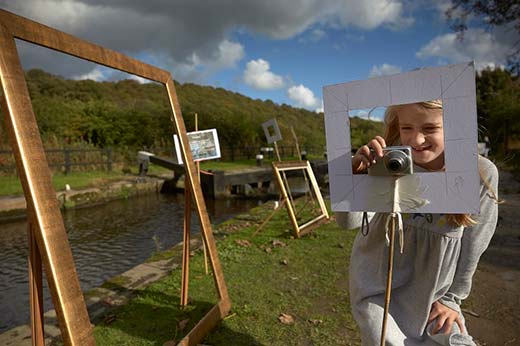 A remarkable evening of elements-themed music brought the Festival weekend to a close, culminating with the premiere of the songscape created by 'The Project', an ambitious collaboration between music-makers and wordsmiths of all ages. The performance was received with a rapturous standing ovation.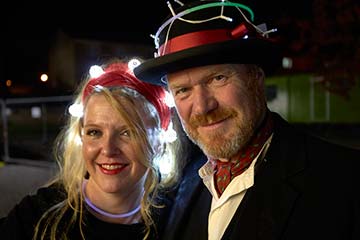 The music continues beyond the Festival weekend thanks to 'Singing for Everybody' (Thursdays, 19:00-20:30 at The Community Centre).
Everyone is welcome and singers will have the opportunity to be inaugural members of the new Mytholmroyd Community Choir.
Photos: Charles Round
See also
HebWeb News: Mytholmroyd Arts Festival: Activity Trail launch
HebWeb News: Mytholmroyd Arts Festival explores the elements
HebWeb News: Mytholmroyd celebrates its young artists
Hebweb News: Mytholmroyd Arts Festival presents premiere of short film 'Calder' - March 2016