Update - 26 June - see Gallery of photos from the 2017 Parade.
Tuesday, 20 June 2017
10th Hebden Bridge Handmade Parade - this Sunday
A sea of dreams will be floating through Hebden Bridge on Sunday, when the 10th annual Handmade Parade takes place.
Thousands of people from across Yorkshire and beyond are expected to watch the Parade when it takes to the streets of Hebden Bridge.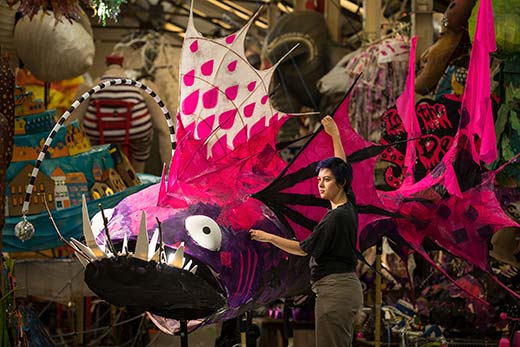 The parade features giant puppets made by professional artists and colourful costumes and community art made at open workshops by hundreds of participants. International Greek artists add to the mix with bespoke street theatre and stilting pizazz to make this the summer parade of the year.
The Sea of Dreams
The theme this year is Sea of Dreams.  Watch out for a giant hermit crab, rockstar seagulls, deep sea monsters, ships of dreams and families of seahorses coasting through the town.
From Victoria Road to Calder Holmes Park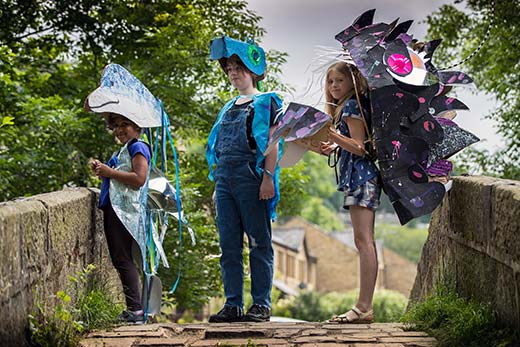 The parade, complete with bands Drum Machine, Handmade Samba Band, Skiband, Peace Artistes, Juba de Leon and Les Panards Dansants as well as dancers, stilters and a street theatre ensemble, will set off at 12noon from the Handmade Parade workshops in Victoria Road and head down Valley Road, through St George's Square and Bridge Gate to Holme Street and finish in Calder Holmes Park, where there will be a mini-festival with live bands, dancing and food stalls from local vendors until 4pm. See below for map of route
Message from Andrew Kim
Handmade Parade Artistic Director Andrew Kim, said, "This 10th year we feel like we've really grown with our community. We will have about 35 stilt walkers, bigger than ever samba band and dance ensemble and an exiting street theatre ensemble working with our guest artists from Greece. We have some amazing new artists in training and will be hosting visiting artists this weekend from around the UK, USA and Korea. It's going to be amazing!"
Participants
Hundreds of people have made their costumes for the parade at open workshops run by Handmade Parade's professional artists. Participants are asked to be at the parade workshops at 11am on Sunday for the line-up, with the parade starting at noon.
Use public transport
Those taking part are asked to walk to the workshops, use public transport or park near the train station as parking around the workshops will be extremely limited.
Organisers are urging visitors to this year's parade to walk or use public transport if at all possible and avoid congested areas on St George's Square and Bridge Gate by watching along Valley Road or Holme Street. There will be traffic delays on the A646 Halifax Road between 12.30pm and 1pm.
Read more on the Handmade Parade website
See also:
HebWeb News: Handmade Parade's Sea of Dreams (13 June)
HebWeb News: Parade workshops start this weekend! (1 June)
HebWeb News: Handmade Parade Help You Make Giant Puppets (17 April)
HebWeb News: Handmade Parade Spark Day: Ideas Welcome (27 Feb)
Previous coverage of the Handmade Parade on the HebWeb
HebWeb photo galleries all previous years of the Parade