Friday, 25 May 2018
Handmade Parade workshops start soon!
Fancy being tamed by a lion, riding the big wheel or telling fortunes? If so, then get down to the Handmade Parade open workshops which begin Saturday, 9th June.
And if you'd like to learn to stilt, samba drum or dance in the parade, there are special parade classes for each this year too.
The 11th annual Handmade Parade rolls into Hebden Bridge on Sunday June 24th and this year's theme is Roll up! Roll up! – the travelling fair arrives. 
Artistic Director of Handmade Parade, Kerith Ogden told the HebWeb, "The 2018 Hebden Bridge Handmade Parade will be a chance for our community, our artists, and our audience to get really creative and have fun exploring the idea of a travelling fair and circus coming through our town. There'll be ridiculous rides, surreal sideshows, weird circus, and all the fun of the fair".
With over a thousand people expected to take part in this year's parade, organisers are urging families to be early birds to beat the crowds.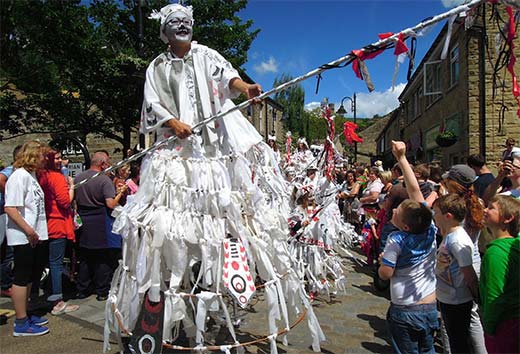 Open workshops for people to create their parade costumes  will begin next Saturday and Sunday from 10am-12noon and 2pm-4pm and continue the following weekend.  Further workshops will be held on Tuesdays and Thursdays from 4-6 with a special additional late workshop from 7-9 on the Tuesday and Thursday of the last week.
No experience is necessary but under 14s need to be accompanied by an adult. Entry is by a suggested donation of £5 per person for the first session and £1 per person for further visits.
If you would like to learn a parade skill at the parade classes you can find out more on the website. No previous skills required. To sign up please email.
Parade
Sunday 24 June at 11.30am followed by a Picnic in the Park 12.30-3.30pm
Volunteer
If you would like to help out come and volunteer with us – it's all fun and you're really helping bring excitement to the community. For more information please email.
This year's Hebden Bridge Handmade Parade is supported by Arts Council England, Hebden Royd Town Council, Calderdael Council and Community Foundation for Calderdale.
For more information about this year's parade please go to the website