Tuesday, 27 June 2017
2017 Hebden Bridge Handmade Parade - report, photos and links
The Handmade Parade continues to improve every year, building upon all the crazy parades which have gone before. And the crowds get bigger, more colourful and more astonished.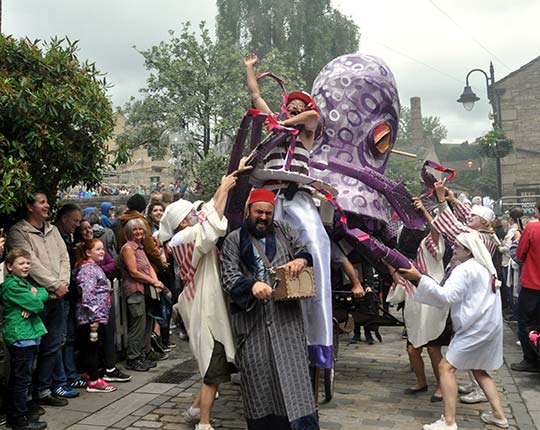 Hebden Bridge sailed away on the 10th annual Handmade Parade on Sunday, with thousands lining the streets to watch an array of colourful creations fill the town. Despite a wet start to the day, the sun was shining by the time the parade reached the park and huge crowds cheered the incredible array of artworks and nautical characters as they swam, floated and flew through the park.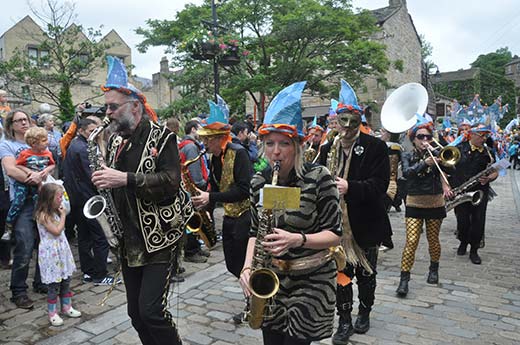 This year's theme was Sea of Dreams and spectators were treated to beach parties, seagull rock stars, skeleton fish, loan sharks, white horses and hundreds of seahorses coasting the waves.
The 10th annual Handmade Parade featured giant puppets and floats made by local professional artists and colourful costumes and community art made at open workshops by hundreds of participants.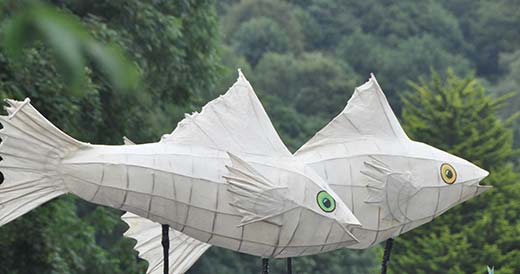 The parade, complete with guest street bands Drum Machine, Handmade Samba Band, Skiband, Peace Artistes, Juba de Leon and Les Panards Dansants as well as stilters, dancers and a street theatre ensemble set off at 12noon from the Handmade Parade workshops in Victoria Road and headed down Valley Road, through a packed St George's Square and Bridge Gate to Holme Street and finished in Calder Holmes Park, where there was a mini-festival with live bands, dancing and food stalls from local vendors.
The parade was delighted to include guest artists Spyros and Edouard from Greece who have been working for the last month to create stilt and street theatre magic with the people of Hebden Bridge and who wowed the crowds with a sinister lifeguard and sleepwalking sailors. Further parade highlights included White Wave Horses made in a workshop by Artistic Director Andrew Kim, a giant Hermit Crab with Hebden Bridge as it's shell by Kerith Ogden, an Octopus by Sue Walpole, a Cardboard Ship by Fran Sierevogel, a Shark and Mechanical Angler Fish by Rag and Bone of Huddersfield and a Lighthouse by Cardboardia from Russia, last year's international artists in residence, who joined the team in the very last days.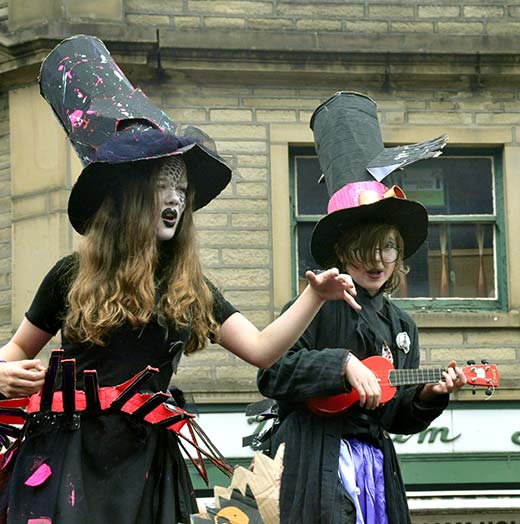 Handmade Parade Artistic Director Andrew Kim, said: "What a remarkable voyage! It's been such a pleasure to see the parade art and performance grow year to year. With our new intern program, our international guest artists, our world-class local lead artists and the most hard-working volunteers ever, we're pleased to be able to hold open this space every June for our community to release their extraordinary creativity."
Crowds made the most of the good weather and the fantastic food on offer from local vendors in the park, to stay on and make a day of it.
One participant from Hebden Bridge, who took part in the parade with her family, said: "Just when you think the Handmade Parade can't get any better, it does!"
Organisers would like to thank everyone who volunteered, took part and lined the streets to watch for making it such a special day
Handmade Parade Project Manager Suzy Russell said: "Huge thanks to our amazing professional artists and the ever-growing band of volunteers who make it happen. A special thanks to Hebden Royd Town Council, Calderdale Council, Calderdale Community Foundation, Creative Minds and Arts Council England for their funding and to all those who gave generously to our pirate collectors on the day."
For more info on the parade go to the website.
Photos from the 2017 Parade
See also:
HebWeb News: 10th Hebden Bridge Handmade Parade - this Sunday (20 June)
HebWeb News: Handmade Parade's Sea of Dreams (13 June)
HebWeb News: Parade workshops start this weekend! (1 June)
HebWeb News: Handmade Parade Help You Make Giant Puppets (17 April)
HebWeb News: Handmade Parade Spark Day: Ideas Welcome (27 Feb)
Previous coverage of the Handmade Parade on the HebWeb
HebWeb photo galleries all previous years of the Parade