Hunger Strike to Ban the Burn
Thursday, 20 February 2020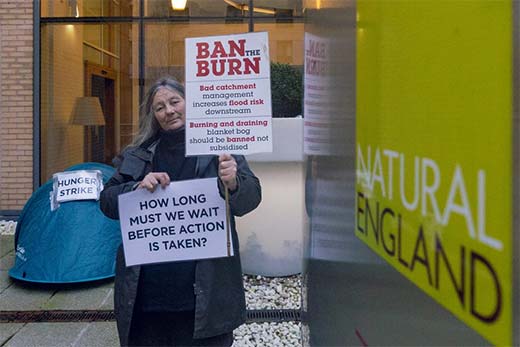 Following the devastating flooding in Hebden Bridge and Mytholmroyd during Storm Ciara,  Hebden Bridge's Dongria Kondh, co-ordinator of Treesponsibility, has gone on hunger strike outside Natural England's Leeds office, at Lateral, 8 City Walk, Leeds LS11 9AT, from 8.00 a.m. on Thursday 20th February.   
The hunger strike is in protest at Natural England's failure to investigate seemingly unconsented works and moorland burning on a big grouse shooting estate above Hebden Bridge. 
Evidence was presented to Natural England back in August 2019 by local groups Ban the Burn and Calderdale Wildlife Group. Despite agreeing in October 2019 to investigate these examples of apparent mismanagement (in breach of the 2017-42 Walshaw Moor Estate Restoration Plan), Natural England appears to have done nothing.

There's a huge amount of well-founded local concern, informed by reliable hydrology studies, that upland mismanagement in the area is contributing to the severity of flooding in the valley during heavy rainfall events.

Dongria Kondh said,  "Local community groups like Treesponsibility and Slow the Flow Calderdale are doing their best to reduce flood risk, but unless the large landowners are held to account our efforts will be in vain.
"my patience has run out"

"Natural England either can't or won't act as a regulator for landscape management in the uplands.  That's an important matter for communities who depend on well-managed catchments to reduce their vulnerability to flooding, and it is also a matter of public accountability – rich landowners are receiving large amounts of taxpayer funding with little or no monitoring. After campaigning for better upland managment in the Hebden Water catchment for nearly eight years, my patience has run out - which is why I decided that a hunger strike was the only remaining course of action."

Ros Berrington, from the Upper Calderdale Wildlife Network said, "Immediately after the severe flooding in the Upper Calder Valley due to Storm Ciara, we again wrote to Natural England demanding an update on their investigations. Their reply on 14th February excused their failure to start the investigation on the grounds they were waiting for additional information from us regarding many apparently unconsented vehicle tracks on Walshaw Moor Estate, which we drew to their attention in separate correspondence.  However they did not contact us to ask for specific details of tracks that are appearing on the estate and it was the first we'd heard that they were delaying their investigation into our initial complaint until we had sent them this additional information." 

In a separate development PCS, the NE trade union, is
balloting its members for strike action  to campaign against low wages and chronic underfunding (NE has lost 64% of its budget in the last decade).  

Dongria Kondh added,  "My hunger strike is not aimed at individual NE workers, who often struggle with unmanageable workloads, and I definitely agree with the unions statement that "NE needs to be properly funded to meet its environmental protection obligations and to be able to actively participate in Defra's 25-year plan to improve the environment.
"The present situation has to change, and change fast,  if our landscapes and local communites are to increase their resilience to accelerating climate change."