New Caldene Bridge opens Monday
Saturday, 16 May 2020
The existing Caldene Bridge is a major constriction to flood flows and contributed towards the Boxing Day 2015 floods.
Widening the channel at Calder Grove was identified as one of the key solutions to reducing flood risk in the village, so the area beneath the bridge has been increased from 57.9m2 to 97.8m2 with the new two-span bridge above. This extra capacity will allow water to move more freely during high flows.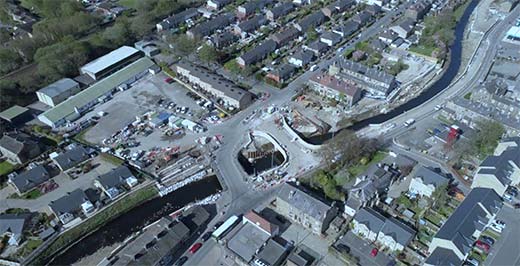 The opening of the new bridge is a major milestone for the Mytholmroyd Flood Alleviation Scheme.
The new bridge will be open from approximately 10am on Monday 18 May 2020 and will be accessible to both traffic and pedestrians.
Pedestrians should use the downstream path which leads to the pedestrian crossing on Burnley Road. However, the crossing will not be staffed or have operational lights yet, so caution is advised.
New traffic routes will be clearly marked and users are reminded to be aware of these changes.
The old bridge will be closed with barriers to both traffic and pedestrians. Demolition is then planned to commence the following week (week commencing 25 May).
Access to the community centre will also be maintained during this time.