Community contact tracing pilot starts today in Upper Calder Valley
Monday, 1 June 2020
From Monday 1st June, people in the Upper Calder Valley who have Covid19 symptoms will be able to get help from a local Contact Tracing and Support pilot.
The pilot has been set up and run by mutual aid volunteers, and others with clinical or public health experience. It has support and participation from Calderdale Council Public Health, the Upper Calder Valley Primary Care Network and Hebden Royd Town Council.
The aim is to help to reduce or stop the spread of COVID-19, by supporting self-isolating Covid19+ people and their contacts, and helping to connect them with services and information they need.
A simple call or text is all it takes
A simple phone call from people with Covid 19 symptoms to the pilot's Referrals Coordinator will enable them to be put in touch with a trained volunteer Contact Tracer.
Subject to consent, during a phone call the contact tracer will take details of the person's symptoms and talk them through the essential self isolation process, including advice on keeping any other household members safe. They will also offer help with shopping and so on from local mutual aid groups, as well as a daily support call over the next 7 days to find out how they're getting on and offer moral support.
The contact tracer will also ask if they are willing to say who they've been in significant contact with over the 2 days before they got Covid-19 symptoms, and since then. That way, the contact tracer can phone their contacts to warn them they're at possible risk of infection, and also to offer support during 14 day quarantine.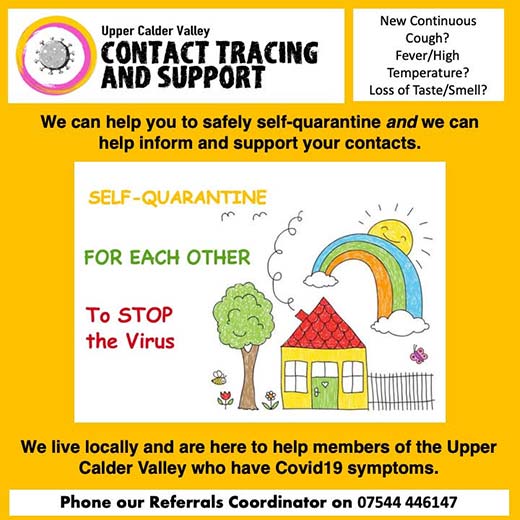 Please contact the Referrals Coordinator if you have Covid 19 symptoms
The community contact tracing pilot encourages anyone in the Upper Calder Valley with at least 2 of the three main Covid19 symptoms, to now contact the Referrals Coordinator Anne Marie Hutchinson on 07544 446147.
The three main Covid19 symptoms are: a new continuous cough, fever/temperature and loss of taste/smell.
Anne Marie Hutchinson, a retired Community Matron in the Upper Calder Valley, said, "Tracing and selective quarantine is the only way to get back to normal life.
"As long as people who have been in contact with the virus are prepared to self isolate for 14 days the rest of the community could come out of lockdown. Our volunteers can help with the practical difficulties during isolation."
Support from Calderdale Public Health, local GPs and Hebden Royd Town Council
Dr Nigel Taylor, a Hebden Bridge GP and Upper Calder Valley Primary Care Network Clinical Director, said, "GPs and our colleagues working in the Upper Calder Valley are really pleased to endorse this important project. Offering additional support to patients and their contacts to isolate and so minimise transmission of the virus and to keep us safe in the Upper Valley will be really helpful.
We are asking people to isolate which will be difficult, but is vitally important. The support offered by the volunteer team will make the task more tolerable. My colleagues will be signposting any patients to contact the co-ordinator and I urge you do so."
Cllr Sue Fenton, Chair of Hebden Royd Grants Committee, said, "Hebden Royd Town Council is pleased to give financial support to the UCV Contact Tracers Pilot endorsed by our local GPs. This community project will not only enhance the national scheme when it goes on stream but will offer a range of support to those of us who will need to self isolate."
At the invitation of Calderdale Public Health consultant Ben Leaman, the Contact Tracing Pilot is joining the Calderdale Test and Trace Group. The Group's basic aim is to add to the national test/trace programme and meet the needs of the local population.
Andrea English, an Advanced Nurse Practitioner who's a clinical advisor to the Contact Tracers, said, "There must be discussion of the financial implications for employers of sick pay and workforce loss, as well as finding a way of protecting employees' standard of living during covid-19 quarantine.
"Covid 19 deaths and infections have a very clear correlation with established inequalities. Local authorities must surely target some of their £300million test and track budget to make sure that the costs of contacts' quarantine doesn't fall hardest on low income and BAME communities, who have already borne the greatest losses.
"Requiring asymptomatic workers to self isolate out of some 'individual moral duty' is unrealistic. Without a reciprocal responsibility from the government for this public health act of social solidarity, the worker will be caught between doing the right thing and keeping their livelihood."