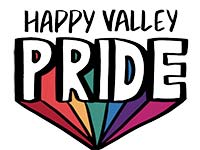 Happy Valley Pride Presents Storytime!
Tuesday, 14 July 2020
Happy Valley Pride has announced a series of videos featuring LGBTQ+ friendly stories for children across Calder Valley and beyond – as part of their series of digital events for 2020. 
The four special stories all have an LGBTQ+ focus and have been read by friends and supporters of Happy Valley Pride. They will be available on www.happyvalleypride.com and the Happy Valley Pride YouTube channel from 10 am on Tuesday 14 July.

And Tango Makes Three
The story of two male penguins, Roy and Silo, who create a family together.

Authors: Justin Richardson, Peter Parnell, Illustrator: Henry Cole. Published by Simon & Schuster.

Read by Sean Pert.
Julian is a Mermaid
An award-winning picture book about self-confidence and love.

Author: Jessica Love, Illustrator: Jessica Love. Published by Candlewick Press.

Read by Terry Logan
Frockodile
The wonderful story of Cliff, the crocodile who wants to wear a dress.

Author: Jeanne Willis, Illustrator: Stephanie Laberis. Published by Hodder Children's Books.

Read by Jenny Wilson.
Mommy, Mama and Me
One of the only original board books about gay parents! 

Author: Lesléa Newman, Illustrator: Carol Thompson. Published by Tricycle Press.

Read by Lisa Tregellas.

Happy Valley Pride is the eclectic, alternative and inclusive festival for everyone. From Thursday 23 to Saturday 25 July there will be a series of special online events to celebrate Happy Valley Pride Digital 2020. All events are free with joining details on www.happyvalleypride.com and all Happy Valley Pride social media channels. 
Thursday 23 July - Writing Anne Lister: An LGBTQ+ History - 7pm

Friday 24 July - Kirsty's Poptastic Piano Singalong D*I*S*C*O* special and After-Party - 8pm

Saturday 25 July Jinx Monsoon - A Midsummer Night Scream - 8pm

Chair Tim Whitehead commented, "A key part of what we do at Happy Valley Pride is engaging with all parts of the community. As part of our digital focus for 2020, we wanted to provide something that teachers and parents can use to engage with children using stories with an LGBTQ+ focus. These wonderful, inspiring and powerful stories are read by friends of Happy Valley Pride and we hope children (and grown-ups) will enjoy listening to them. Thank you to the authors for their kind permission, and to our special storytellers."
Two of Jill Liddington's excellent books on Anne Lister, including one which inspired Gentleman Jack, were published by Hebden Bridge publishers, Pennine Pens.