Red Sky at Night for Calrec
Tuesday, 18 August 2020
Calrec Audio in Hebden Bridge was one of several Calder Valley venues who lit the night sky red to help raise the alarm for the live events and entertainment sector.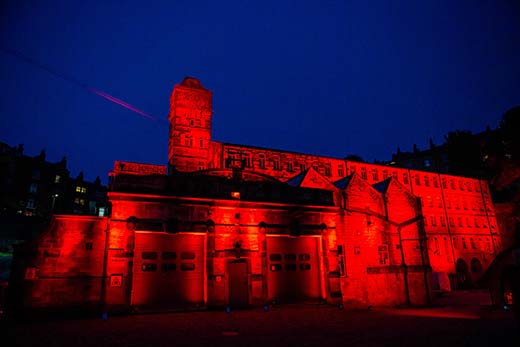 Last week, Calrec's historic Nutclough Mill, alongside the Todmorden Hippodrome and the Halifax Playhouse, was lit red as part of the national #WeMakeEvents campaign.

"Calrec designs and manufactures audio mixing equipment exclusively for live broadcast and is part of the global live events ecosystem, so it is important Calrec played an active role in this event," says Calrec's General Manager Sid Stanley.
"All our customers have been affected by the impact of Covid-19 and without immediate support, the entire supply chain is at risk of collapse; that means venues, freelancers, systems integrators, broadcasters, talent, production companies and others, including suppliers and manufacturers."

Calrec has been manufacturing broadcast audio equipment in Hebden Bridge for over 50 years and has customers all over the world. Every live Premiership football match uses a Calrec, as does every Superbowl and World Series game in the US, and Calrec's customers include international broadcasters like the BBC, ITV, NBC, CBS, ABC, MBS, Fox and Sky.

Sid Stanley added, "This has affected our customers in every territory, and the impact on live events like sports and entertainment has been devastating. In the UK alone there are over 1,000,000 people employed in delivering events, 72% of whom are freelance, and many of which have no access to any financial support. This affects us all, and as the biggest employer in Hebden Bridge it could have an impact on local people in the Calder Valley too."
#WeMakeEvents is bringing together all aspects of the events and theatre industry to make its voices heard by the UK Government. There are 19 trade and industry bodies involved along with over 100 of the world's leading audio, lighting and video equipment manufacturers, production companies and freelancers, including Calrec.

Lighting installation hire specialists Mainline Show Productions, who alongside Cleckheaton's Wedding Venue Lighting, kindly supplied lighting for Calrec to participate in the event, have also seen business drop off since Covid-19.

"We made a significant investment in equipment at the start of the year and we have since lost all our summer work and all our expected winter work simply because every event has been cancelled," says Mainline's Director Nick Hewitt.
"Even if outdoor events return next year there are risks – promoters will not survive, festivals will not survive, numbers will be reduced, budgets will be reduced. Everybody in the chain loses out."

Other Calderdale venues who lit up in support of the #WeMakeEvents campaign include Todmorden Hippodrome. As one of the UK's largest volunteer-run theatres, the Hippodrome has over a dozen professional freelancers who work in the events industry and volunteer time to support this grassroots venue.
"At the Hippodrome in Todmorden we're joining the Light It In Red campaign to shine a light on the crisis within the whole events industry, not just theatre," says Aysa Illingworth-Goldthorpe, a member of the charity that owns the Hippodrome.
"I started as a volunteer at the Hippodrome and then went on to work professionally within the industry which is why grassroot venues are so important.

"We have people volunteering from all areas of the events industry from backstage and technical to professional actors and musicians. Many of our volunteers first became involved in live arts at the Hippodrome and have then gone on to study professional theatre. In fact, one of our volunteers was working on the professional UK tour of Phantom of the Opera which has now been cancelled due to the pandemic.

"This crisis is affecting every area of the events industry and we want everyone in the Calder Valley to be aware that this is affecting people who live in the area and support many of their local community venues and events."
The above view is confirmed by Chris Baldock, Publicity Manager & Company Director at Halifax Playhouse. "The volunteer-run Halifax Playhouse is funded by ticket sales and has been closed since March. As well as loss of income, this has impacted our inhouse shows, those of our local community hirers and the wide range of professional shows we host. Non-professional theatres like ours are still being discriminated as the limited Government support is given to professional theatres.

"We've been lobbying our local MPs and we're also members of the Little Theatre Guild which is made up of owners of over 100 amateur run theatres, and they have been campaigning nationally."

Most freelance workers have been excluded from the government furlough scheme and have been the first to be laid off from venues and projects. #WeMakeEvents aims to use the Light It In Red Campaign to highlight the plight of freelance workers within the industry.

The #WeMakeEvents campaign is now at RED ALERT and will continue until the industry is allowed to operate in a way that is not limited by social distancing policies, and is calling for:
Grants - not loans - made available to businesses in the events supply chain.
Furlough Scheme extended until the industry is back to work
Extension of the Self-employed Income Support Scheme.
You can also get involved by writing to your local MP. For letter templates and more information visit: www.plasa.org/we-make-events/