Hebden Bridge based 'Ask The Question' awarded grant from the Calderdale Community Foundation
Monday, 8 February 2021
Community tutoring fund, Ask The Question, have told the HebWeb that they are delighted to announce that they've been awarded a grant by the Calderdale Community Foundation as part of the 'Never Hungry Again' fund.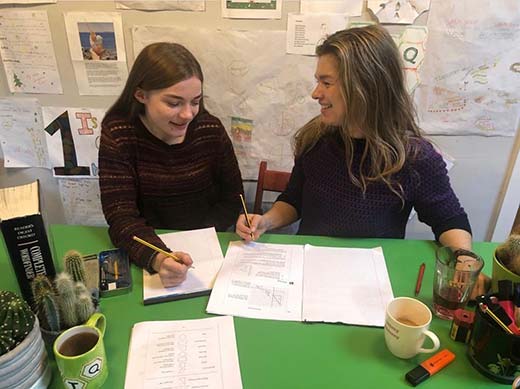 The grant will enable 'Ask The Question' to carry out weekly lessons with 10 teenagers who have experienced adverse childhood experiences, in order to build domestic skills ahead of living independently. The course will include information about making healthy life choices, the importance of nutrition and ways to exercise.
Ask The Question, set up in 2017, is a sister company to 'Read The Question', a tutoring business with over 20 years of experience in Hebden Bridge. 'ATQ', as it's known, enables children and teenagers from Calderdale who have experienced adverse childhood experiences to access private tutoring and mentoring sessions. The community interest company has already benefited around 80 children, 47 of which have been in local authority care, granting them the opportunity to enjoy sessions on whichever subject or topic with which they feel they need a little extra help or support.
In light of the Covid-19 pandemic, and further cuts to the GCSE syllabus announced by Ofqual, many young disadvantaged people in Calderdale have been left unable to access education surrounding 'healthy lifestyles' before moving to independent living.
Many young people who experience adverse childhood experiences are at an increased risk in later life of alcoholism, drug abuse, sexually transmitted infections, heart disease and teen pregnancy (Source: Nerissa Bauer). Ask The Question is aiming to bridge the gap within their own, local community, and have built a course which helps build skills, and more importantly, build confidence in the students ahead of them living independently for the first time.
Applicants for the course include looked-after children who are moving to independent living in the next few years, young carers, and young people who were adopted late in life and missed out on many of the nutritional benefits of a secure early-years environment.
Jo Austin, founder of Ask The Question said, "We are working to support Calderdale's ACE children, in light of the Covid-19 pandemic, providing them with knowledge about healthy lifestyles that will enable them to make better choices in the future. Our comprehensive course covers a variety of issues and topics, which will build confidence in our students and enable them to happily live independently for the first time."
Rachel Oates from The Community Foundation for Calderdale added, "We are working with Calderdale Council and the Piece Hall on a long term campaign to combat child food poverty. This campaign is about helping to create change long term and we are really pleased to see the results from this project."
Those wishing to find out more about Ask The Question can view their website here.