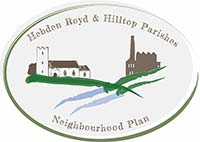 Neighbourhood Plan: Other Issues and Implementation
Friday, 19 March 2021
This is the last in the series of weekly articles about specific aspects of the Hebden Royd and Hilltop Parishes draft Neighbourhood Plan (NP), now out for public consultation closing on 7th April. Previously we've looked at the basics of what a Neighbourhood Plan is, its proposals for new housing and regeneration, how it's responding to climate change and flooding, and its approach to transport, parking and accessibility. We'll conclude with brief summaries about all the other issues it deals with, starting with a great opportunity for you to suggest what new community, recreation and cultural facilities you'd like to see the Plan promoting.
Section 16 'Inclusive Community' page 69 onwards considers the range of facilities that we need in our area, which it notes 'will continue to evolve, as e.g the physical presence of even the most basic of shops in the upland communities dwindles and is replaced by online purchase and delivery'. Policy 34 says that support will be given to 'proposals which will facilitate community development, and recreational and cultural provision, and particularly to those serving the needs of particular age groups (such as children and young adults, and older people) or groups experiencing disadvantage.'
But what should those proposals be? As part of the public consultation you can suggest your own ideas! They could relate to a site, a building that needs to be provided or reused, or to services for a particular group. Have you got comments on the type of community and recreation facilities at present not available in the area? Let us know in either the Quick or Detailed questionnaires, or send in your own document to consult@hebdenroydtowncouncil.gov.uk
Section 10 covers economy and employment page 45 onwards. There's never been a recent time when the local economy has been subject to such strains, yet it's the case that a spatial plan like the NP isn't the principal mechanism to resolve these problems. (Calderdale's Local Plan has just 3 pages on the subject). The neighbourhood plan takes a balanced approach to the various sectors of the local economy, with paragraphs on the visitor economy, manufacturing and SMEs, and farming. If you want, look at policies 16-19 to see how they try and support their evolution.
Partly to compensate for this, the Neighbourhood Plan has tried to build up its approach to the subsequent implementation of its various proposals: how to turn a planning blueprint into projects available to be funded and got underway. It's forged a positive relationship with Calderdale's Hebden Bridge & Mytholmroyd Town Development board, which is developing its own process to get projects like this - a building, or a need for some environmental improvement - ready for when public and private funding becomes available - section 17 page 71 onwards
Our area teems with many different types of heritage - historic, natural and architectural - much of it as yet unrecorded and therefore possibly at risk - section 15 page 65 onwards. The NP proposes to institute a process whereby over the next decade this heritage can be surveyed, maybe drawing on so much local expertise. It's also notes that whilst the conservation area statement for Hebden Bridge is up-to-date, those for Mytholmroyd and Heptonstall are not (possibly due to lack of resources in Calderdale Council). So far as the design quality of new development is concerned - but also its energy efficiency, flooding resilience, accessibility and landscape impacts - consultants AECOM are preparing a design code which will be available for consultation in the summer para.15.9 page 66.
If you want to read about what's proposed in your particular part of the Neighbourhood Plan area then look at the sections and policies for Mytholmroyd page 31 onwards, Hebden Bridge page 35 and the Hilltop Parishes page 38. And if you're a planning enthusiast you can review the Plan's 'vision' and objectives to check whether they're in order or need to be amended  section 4 page 21 onwards
Do you agree or disagree with what's proposed in the draft Plan? Have you other suggestions?  You still have 2½ weeks for you to complete your consultation responses. Download all the documents here. If you want to find out more there are online Q&A sessions on Tuesday 23rd March 7pm, and Thursday 1 April 2pm - details here. And there's a linked discussion forum thread on Hebweb for your contributions.

See also
HebWeb News: Neighbourhood Plan: Neighbourhood Plan: Transport and accessibility 12 March 2021
HebWeb News: Neighbourhood Plan: Climate Change, Flooding & Landscape 5 March 2021
HebWeb News: Neighbourhood Plan: Regeneration and new housing 26 Feb 2021
HebWeb News: 10 things to know about the Neighbourhood Plan 18 Feb 2021
HebWeb News: Launch of public consultation for new Neighbourhood Plan 17 Feb 2021
The Headlines or main points of the Neighbourhood Plan