Duck Race 2021 – Update from Duck Farm
Wednesday, 24 March 2021
With the Easter Monday Duck Race only days away, it's all happening down on Duck Farm as they get ready for the big day.
This year the annual event, which is organised by the Rotary Club of Hebden Bridge, is having to be a virtual event from a secret location, because of the covid restrictions that are currently in force.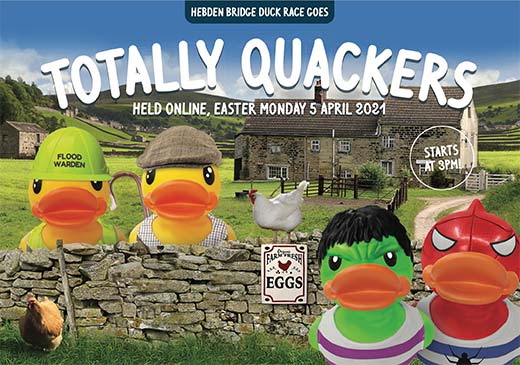 Being virtual and now titled 'Totally Quackers', it has allowed the organisers to run riot with their imaginations.
Rotary Duck Race organiser Roger Benn said, " Duck Farm is the fictional setting for the event and followers of 'Tales from Duck Farm' on social media have been introduced to Farmer Duck's family, plus 3 pesky character ducks, Wonder, Spider and Hulk, who are intent on causing mischief".
Roger continued, "All these ducks will be present at the event, as imagination merges with reality. The event consists of 2 races, the main race of small yellow ducks which cost £1 each and the business race of bigger red, green and blue ducks which cost £10. Each race has some fantastic prizes waiting to be won".
The Rotary Club invited local schools and nurseries to take part in the event and create duck related artwork. Roger continued, "Despite all their current problems, they all got behind the event and have submitted a fantastic total of 55 artwork entries. These are all now online and waiting to be judged and voted on".
Roger continued, "If people visit our website they can buy race tickets, vote on the artwork, follow the 'Tales from Duck Farm' and then watch the race online at 3pm on Easter Monday, 5th April 2021. Everybody wants a smile at the moment and hopefully we can bring them one". 
Roger then finished with this plea, "All the profits we make from the event get re-distributed in the form of grants from the Rotary Club, which people can apply for at any time. It's important therefore that we still raise as much as we possibly can from the duck race, despite it having to be an online event this year".