Calderdale Council and West Yorkshire Mayor Elections
Updated Tuesday, 27 April 2021
Election date: Thursday 6 May 2021 with two ballot papers to complete.
There are 51 councillors who run Calderdale Council. Calderdale is divided into 17 wards which each return three councillors. Three years out of four, we have the chance to elect one councillor. Councillors are elected to serve on the Council for a term of 4 years. Hebden Bridge is in the Calder Ward, and Mytholmroyd is in the Luddendenfoot ward.
As with previous years, the HebWeb invites candidates for Calder and Luddendenfoot wards to send up to 500 words and photo. Profiles will be posted below in a similar way to previous years - see pages from the 2019 election and from the 2018 election.
See below for the four candidates who have responded so far.
See also below for a list of candidates for the election to become Mayor of West Yorkshire.
There is also a bye-election for Hebden Royd Town Council - White Lee ward. Details below
---
Here the candidates for the 6 May election
Calder Ward including Hebden Bridge
Josh Fenton-Glynn - Labour Party
Helen Lasham - Freedom Alliance
Gail Lund - Conservative Party 
Alan McDonald - Green Party
Nikki Stocks - Liberal Democrats

Luddendenfoot Ward including Mytholmroyd
Jane Scullion - Labour 
Christine Bampton-Smith - Liberal Democrats 
Jill Smith-Moorhouse - Conservatives
Kate Sweeny - Green Party 
---
Hebden Royd Town Council - White Lee ward by-election
Bernice Hayes - Labour Party
Mark Pittaway - Liberal Democrats
---
West Yorkshire Mayor Election
First the first time, we have the opportunity to vote for a West Yorkshire Mayor. Here are the candidates:
Waj Ali - Reform Party
Tracy Brabin - Labour Party
Bob Buxton - Yorkshire Party
Andrew Cooper - Green Party
Stewart Golton - Liberal Democrats
Thérèse Hirst - English Democrats
Matt Robinson - Conservative Party
---
Register to vote
Register before midnight on 19 Apr 2021 to vote on 6 May 2021.
---
Josh Fenton-Glynn - Labour Party candidate for Calder Ward
I have been one of your councillors for Calder ward for five years, and in the upcoming election I once again ask for your support again based on my work, record and values to be your voice on Calderdale Council.
The past five years have been hard for our community, but in that time I believe the Labour leadership has protected our services, and offered ambitious new ideas, despite the Tories cutting £115 million from our budget over the last decade. We have shown real vision in tackling the climate emergency, delivering vital flood defences across the ward, and supporting big plans like the town centre fund and market redevelopment in Todmorden as well as improving transport links.
Flooding
As chair as the Flooding Scrutiny Board I've promoted natural flood management as well as keeping pressure on Yorkshire Water to see planting trees on their land and lowered reservoir levels on their land as a key part of their engagement with flood prevention. I have made sure the council is getting support out to businesses and home owners as well as passing on valuable lessons learnt from the 2020 floods
Accessible and accountable
I have always tried to be accessible and accountable as a councillor using my social media channels to write regular updates on council meetings, the decisions we faced and often difficult choices we made. More recently I have used that platform to give regular updates about coronavirus.
Led by values
I have spoken to thousands of people over the last five years and I will continue to be led by my core belief in the strength of our community, and a personal commitment to supporting those who need it most.
Calderdale is a finely balanced council, and it was only in 2019 that Labour gained overall control, which means that we no longer have to negotiate council budgets with other parties. The last time this happened the Conservatives tried to save money by using the funding that supports children in care to put those children into private schools. We defeated that costly ideologically driven idea that could have caused real harm. Under Labour we've been one of the few councils to invest in new children's homes, bringing vulnerable children out of the private sector and making sure we can care for them close to home. This is one of many examples of why your local councils values matter.

Standing up for facts
A final thing I'll say is that in this election I believe we have been targeted by a COVID denier because I have been vocal that people should understand the risks and rules around coronavirus. I'm always going to be guided by science and the facts - be that on climate change or the impact of a virus that has killed hundreds of local people. I believe we always need to understand the problems we face so we can tackle them.
---
Alan McDonald - Green Party Candidate for Calder Ward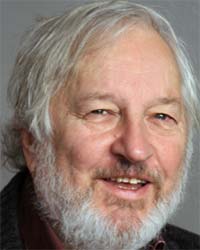 Climate change is the single issue that dwarfs everything else.  The youth strikers have told us so. Are we the last generation? one of their banners asked starkly at Extinction Rebellion in London. But their spontaneous action fills me with hope. 
Greens are still at the forefront of action, alongside others of like mind - from slowing the flow into the Upper Calder - to protesting in Parliament Square.  We need a Green New Deal, a universal basic income: policies Greens have long proposed that are now being talked about in mainstream politics.
We need detailed local and national programmes to cut emissions and consumption, so that we put into practice what's needed to meet the 'climate emergency' our local councils have acknowledged.  We have to act now.
---
Jane Scullion - Labour Candidate for Luddendenfoot Ward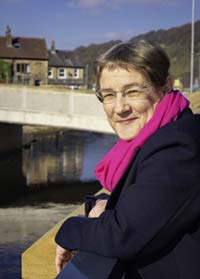 I am standing once again to represent Luddendenfoot, for Labour, in the Calderdale elections in May. It's been a privilege and a responsibility to have been a councillor for the last five years. During this period we've had to deal with Brexit, the difficulties of flooding, the pandemic and the terrible government cuts to the Council. What a journey!
Locally, since I was elected in 2016, we have seen Labour go from strength to strength and now we've got a great team of councillors fighting for the ward, with Scott Patient (elected 2018) and Roisin Cavanagh (elected 2019). We've worked hard to make things better for local people and we want to build on that work in the future.
The ward stretches from Wainstalls to Cragg Vale and includes Midgley, the Luddenden valley villages, Kershaw, Boulderclough, and Mytholmroyd as well as Luddendenfoot itself. Most people here want their communities to be vibrant and caring places, understand why we need decent public services and aren't just in it for themselves.
Covid has hit our communities hard, with lost jobs and income. Young people have missed out on education and socialising. We need to rebuild our lives – and, together, we need to build a fairer society.
Priorities are:
The climate crisis. A green new deal can help.
Keeping the NHS free from the profit-motive.
Defending small businesses and securing jobs, Training and apprenticeships are vital.
Back on the buses and trains. Rural buses in particular need support.
Getting back together. We need our community events, festivals and arts events more than ever.
Why Labour? Because I believe in its core values, that we need to pull together for social justice and to make our communities good places for everyone. Vote Labour.
---
Helen Lasham - Freedom Alliance candidate for the Calder Ward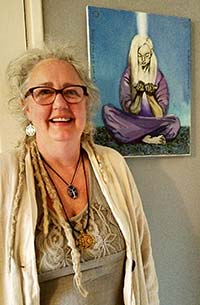 Hi, my name is Rev Helen Lasham. I'm a resident of Fairfield in Hebden Bridge and I have been horrified by the way our lives have been overtaken beyond the CoronaVirus.  
The other candidates are going along with and will continue to kowtow to this lunacy.  If you would like an alternative to the continuation of what we've had vote for them.  
If you'd like someone who will ask questions and present answers, vote for me.
Freedom Alliance is a campaigning political party that is committed to the principles of personal liberty, sovereignty, and human rights. We reject all forms of governmental restrictions and curtailments on free people. We believe the only instance in which state authorities should have the right to dictate or restrict an individual's movements is when that individual has been found guilty of a criminal offence in a court of law.
We believe in the absolute right of the people to:
Leave home whenever they choose;
Make a living and operate business premises;
Freely associate, assemble, and protest;
Speak freely without censorship or penalty;
Make their own free and uncoerced medical choices.
Freedom Alliance candidates can challenge and oppose the restrictions commonly referred to as "lockdown", and all permutations thereof, such as the tier system. Our elected representatives will do all within their power to defend the rights of constituents who have, for example, lost their jobs through 'no jab, no job' policies. They will also push for a Truth and Reconciliation Commission to get to the bottom of what has happened since March 2020, why it happened and who is responsible.
Freedom Alliance also believes in the critical importance of governments always remaining accountable and subject to parliamentary approval and due process. We believe that, regardless of what unusual or even emergency situation the country may be dealing with, there is never a just cause for this process being suspended.
Our fundamental founding principle is that individuals retain both the absolute right and the absolute responsibility to determine how they will live their lives, including how they choose to protect their health. Imposing health-protecting measures on the populace is not a governmental responsibility. People must have the absolute freedom to choose, with no penalty or disadvantage resulting from their choice. 
FreedomAlliance.co.uk is a fledgling political party, an entirely grassroots organisation run by unpaid volunteers.  As such, we thank you for your patience as we develop.
Previously, on the HebWeb
HebWeb News: 2015 Calderdale Council Election - Results and candidates' statements for Calder and Luddenfoot wards.
HebWeb News: 2014 Calderdale Council Election - Results
More coverage of elections of the HebWeb