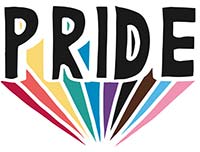 New LGBTQ+ Mental Health Campaign Hosts Festive Session on Depression
Wednesday, 8 December 2021
A new campaign, Mind Your Head, promoting better mental health and wellbeing for LGBTQ+ communities in Calderdale and beyond, is taking a look at depression during the festive period.
Better understand and recognise depression takes place on Tuesday 14 December at 7.30pm. This free event is on Facebook Live and the Happy Valley Pride website.
The festive period is a time of year that often puts extra pressure on many people for a number of reasons and can affect our mental health in lots of different ways. This event will help participants better understand and recognise depression, including practical tips to make the festive season more manageable and bearable.
It will be hosted by Sarah Long, an Accredited Mental Health First Aid Instructor Member and founder of Sarah Long Mental Health & Wellbeing.
Mind Your Head is a partnership between The Brunswick Centre and Happy Valley Pride and funded by Calderdale Council and West Yorkshire and Harrogate Health and Care Partnership.
The campaign aims to raise awareness of the issues around LGBTQ+ mental health and provide access to local, regional and national resources. It includes an online hub (www.happyvalleypride.co.uk/mind-your-head) with hints and tips for wellbeing and links to organisations that can provide advice and support. There are also a number of real-life stories that demonstrate the benefit of seeking help and much more.
The campaign was launched in September 2021 as LGBTQ+ people are more likely to have mental health issues yet less likely to seek help.
1 in 8 LGBT people aged 18-24 (13%) said they've attempted to take their own life in the last year.
Half of LGBT people (52 per cent) said they've experienced depression in the last year.
One in seven LGBT people (14 per cent) have avoided treatment for fear of discrimination because they're LGBT.
LGBT in Britain – Health Report - Stonewall – 2018
A study of LGBTQ people's experience during the pandemic, by University College London (UCL) and Sussex University, found 69% of respondents suffered depressive symptoms, rising to about 90% of those who had experienced homophobia or transphobia.
All past events are all available to watch again on the website, including:
Online talk by Matthew Todd, former editor of Attitude magazine and author of the best-selling book on gay mental health, Straight Jacket.
A look at anxiety and tips on how to help
A guided relaxation session
Keep fit class with Carl Harrison from Camp Fit! ('No. 1 Online Lockdown Workout' - The Independent)
Malcolm Struthers, Mind Your Head Project Manager and Happy Valley Pride Trustee said:
"There has been a greater focus on mental health in the few years than ever before. Through the Mind Your Head campaign we will specifically highlight some of the important issues around LGBTQ+ mental health and provide useful hints and tips, alongside real-life stories, online events and important links to important resources. It is important to know that help is available when we need it. This session will look at depression specifically in relation to the festive period when it can impact many of us. We encourage people to join in to find out more about what depression and ways of managing it during the winter months."
John Mckernaghan, The Brunswick Centre Chief Officer said:
"The Brunswick Centre is delighted to be partnering with Happy Valley Pride for this vital campaign. Not only are we raising awareness of a very important topic, we are also providing links to a range of fantastic organisations that are ready and able to support those in need. These sessions are a great way to find out more about some of the ways our mental health can be impacted and provide practical ways to manage it."