Piano Festival to close
Wednesday, 15 December 2021
With the continuing uncertainty and after much careful consideration of all practical and financial factors, Hebden Bridge Piano Festival Board has taken the difficult decision to close the Festival.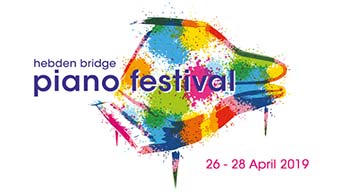 They have found it impossible to plan ahead with any degree of confidence and decided it would not be prudent to plough ahead regardless. Sadly, this means that the final event of the Festival was in April 2019 - see HebWeb News
In a statement to supporters, the Board said, "We know that this is very disappointing news. We remain incredibly proud of seven amazing Festivals when we brought piano stars from around the world to our beautiful town to perform in the gem that is Hebden Bridge Town Hall. We also gave a platform to young performers and local pianists, and commissioned new work. We created a blueprint for a festival with the specific purpose of celebrating piano music in all its forms."
The Board, which includes both the Artistic and Admin Directors, wishes to say publicly a huge thank you to Dr Linda Patterson, sponsor, supporter and Chair of the Festival. Without her the Festival would not have got off the ground in the first place.
They would like to thank all those who have contributed to making the Festival such a success, including our volunteers, our sponsors and donors, Hebden Royd Town Council, Hebden Bridge Town Hall, Forsyths, GSG Pianos, all the extraordinary pianists who have played for the Festival over the years and most of all the loyal audiences who have revelled in those magical weekends since 2013.
See coverage of the Hebden Bridge Piano Festival on the HebWeb since 2013.