The January Dip
Saturday, 1 January 2022
On January 1st 2022, more than 40 outdoor swimmers took the plunge in lakes, waterfalls, streams, reservoirs and even wheelie-bins to raise money and awareness to help fight homelessness.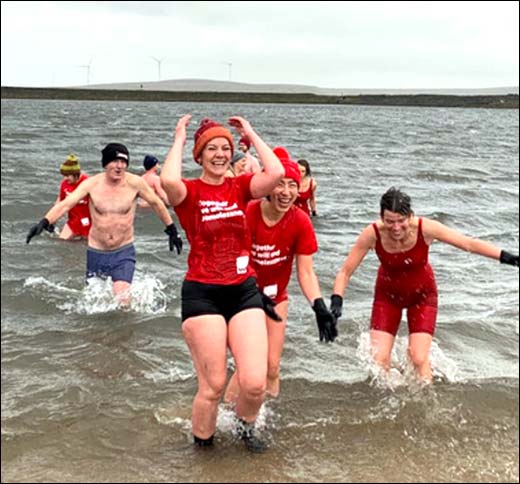 The biggest swim saw around thirty red-clad swimmers take to the water at Gaddings Dam, near Todmorden.
The January Daily Dip is part of Crisis UK's Icebreaker Challenge. Every penny raised will go to support the vital work of the UK's leading organisation fighting the growing problem of homelessness.
The team comes from all over the UK but most of them will be swimming in the stunning lakes, millponds, rivers and waterfalls of Yorkshire and the Lake District. So there will be tonnes of media opportunities throughout January.
This is the fifth year of the January Daily Dip which, so far, has raised a total of nearly £80,000. This year the team will be trying to break last year's record fundraiser of £47,000 (£55,000 including giftaid).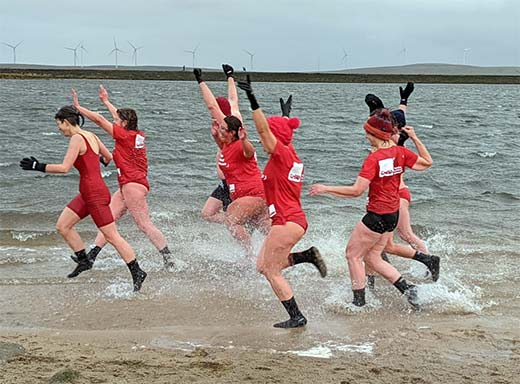 January Daily Dip founder Jamima Latimer said, "lt's very fitting, but also sadly poignant, that we are raising awareness of homelessness in this way. In England alone, more than 200,000 households are facing the worst forms of homelessness. Many of them are living on the streets or in cold and damp temporary or insecure accommodation. We see the January Daily Dip as a daily vigil into the cold - something to remind ourselves, and others, that no-one should be homeless in the UK in 2022."
Jamima added, "So many people are taking up outdoor swimming and we can't believe how many people have joined the challenge. But we know swimming every day in January isn't for everyone. So, we'd like to encourage anyone who wants to support us to stay warm and donate via our Just Giving page!"
Jon Sparkes, Chief Executive of Crisis, said: "We're immensely grateful to the Daily Dip team for once again signing up to our Icebreaker challenge and pledging to raise money to help prevent and end homelessness for good. The amount of money they're raised over the years is incredible and their efforts continue to make a huge difference, showing people experiencing homelessness they're not alone."
Jess Fowle, one of the team dipping at Gaddings Dam told the HebWeb, "This is my second year doing the January Daily Dip. Last year we were in lockdown so couldn't all swim together. It was such a fabulous feeling to swim with so many other January Daily Dippers here in Todmorden and know that we're raising money and awareness to fight the growing problem of homelessness.
"All the money we raise, via our JustGiving fundraiser, will help Crisis UK. We know lots of people will want to help and may even be inspired to join in. The water is really cold in January and swimming outdoors in winter is something that should only be attempted by experienced outdoor swimmers.
"If people do want to support us – we'd love it if they could go to our Justgiving webpage and make a donation. £10 could provide a warm welcome to a Crisis service and help someone take their first steps out of homelessness. £50 could provide someone with the basic essentials they need to settle into a new home. So every donation will make a real difference."
More info