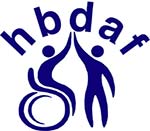 Disability Access Forum - April Focus on Mental Health – all welcome
Tuesday, 12 April 2022
Hebden Bridge Disability Access Forum (HBDAF) has its next ordinary meeting on Monday 25th April 2022, 3pm by Zoom video link. The meeting will start with our regular Focus on Mental Health. We are happy to have Deborah Corbyn of Calderdale Healthy Minds with us for the meeting.
We would really welcome suggestions from local people with mental health issues, on what to discuss at that meeting. So if you want to tell us anything that could be improved or that you find difficult in the Hebden Bridge area, we'd be really grateful. Or if you would like to attend the meeting, either to join us as a member or to call in as a visitor, you will be extremely welcome. You can make suggestions or ask questions at the meeting, or you can just listen, or say Hello.
Please let us know anything that is important to you. It might be access to local services like GPs, access to care and support, to money, work, education, entertainment or lots of things we have not even thought of.
All disabled people are always very welcome in HBDAF, and mental health issues and all other disability access issues can always be raised with us at any time, either in meetings or by email to sechbdisabilityaccess@gmail.com, or by phoning 01422 844914. 
We are a small group of volunteers, and we would love to have some new members of all ages, whatever your disability. 
We usually meet on the third Monday of every month for our regular meetings (our 25th April meeting is the fourth Monday, due to the 18th being a bank holiday). We also meet on the first Monday of every month for an informal drop-in chat, with no agenda or minutes. Both at 3pm by Zoom video. If you do not want to be seen, you can also join Zoom with audio only or by telephone. Let us know if you need help with the technology to join these meetings.
We look forward to hearing from you.
See also: