Hepton Singers' summer is one of ice and fire
Friday, 24 June 2022
Hepton Singers, the accomplished chamber choir based in the Calder valley, will be presenting an early evening concert full of contrasts in Heptonstall on Saturday July 2nd.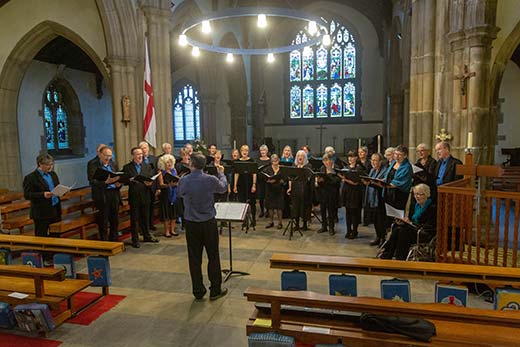 Entitled Ice and Fire, the concert includes both Renaissance choral music and contemporary works, from the intense Mediterranean heat epitomised by the music of Claudio Monteverdi to the chillingly beautiful soundscapes of the modern Icelandic composer Anna Thorvaldsdottir.
The Nordic theme is continued in the work Northern Lights from the Norwegian-American composer Ola Gjeilo, composed in 2008, while the choir will also be singing the highly contemplative Da pacem Domine by the Estonian composer Arvo Pärt. Scotland will be represented, too, in James Macmillan's uplifting O Radiant Dawn, another work by coincidence also composed in 2008, and Peter Maxwell Davies's delightful celebration Lullabye for Lucy, written to commemorate the birth of the first child in the village of Rackwick, Orkney, for over thirty years.
These works are counterbalanced by some of the most joyous and exquisitely crafted music to have flowed from the pen of the great Spanish Renaissance composer Tomas Luis de Victoria, Regina Coeli and O Magnum Mysterium. Also from the Renaissance period, but from Italy rather than Spain, will be the passionate Anima mea, perdona written by Monterverdi, where a woman cries out for pardon from her lover for treating him badly – although does she really mean it?
This year's summer concert from the Heptons, held as usual in Heptonstall church, takes the form of a somewhat shorter programme, with an early evening start at 6pm, the concert finishing about 7pm. The choir are hoping for a beautiful summer evening, with all the ice and fire strictly confined just to the music.
Tickets are £5 (£1 for under 18s) and can be purchased in advance from www.heptonsingers.co.uk or on the door.