CROWS need a hand
Saturday, 9 July 2022
Two big carry days on Erringden Moor 30th July and 20th August
CROWS need loads of walkers, runners and friends to help them take timber across Erringden Moor, Cragg Vale to boardwalk construction sites.
If people could arrange to walk or run up that way and just carry one or two pieces of timber as they went by, we would soon get it all moved – there is no need to stay a long time. 
In 2018 the impassable path across the moor was officially diverted and CROWS put in several boardwalks to get people across boggy spots. (See HebWeb news, June 2018)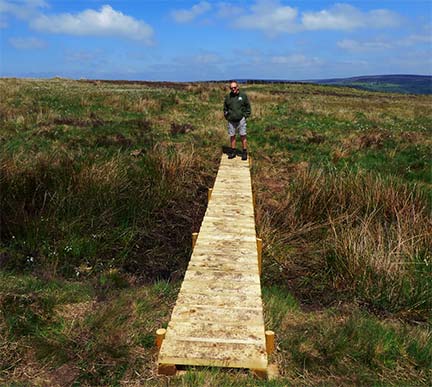 Since then the route has become very popular so we need to put in more boardwalks to prevent damage to sensitive parts of the moor and improve the waymarking. The Gallows Pole TV programme coming up soon will increase footfall so there is some urgency to get the work done this summer.
CROWS need to transport 600 pieces of timber across the moor to the work sites. In 2018, they had loads of runners, walkers, bikers and local residents who helped move everything in short order.
CROWS will be at Bell House both days from 10.30 until 3.30. Just turn up and choose what materials you feel able to carry and someone will show you where to go. We don't want anyone to overdo it and spoil a lovely walk
Volunteers from CROWS - our local Community Rights of Way Service  - continue to improve and repair footpaths in our area and the rest of the Upper Valley.
For more details about the project and how to get involved in the Big Carry Days, look at the CROWS website www.crows-coop.co.uk/coiners-paths/