Remembering the Hiroshima and Nagasaki bombings
Monday, 1 August 2022
On 6th August at 11am, Calder Valley CND for Peace & Justice will be assembling by the Packhorse Bridge in Hebden Bridge to commemorate the anniversary of the Hiroshima and Nagasaki bombings. Through poetry, readings, song and reflection, local residents will be remembering those who died when the nuclear bombs were dropped 77 years ago on this day and those who still suffer from radiation poisoning.
As Hiroshima survivor, Hayashi Yuriko has said, "The atomic bomb not only took many lives, but it also irreversibly damaged the spirits of the tens of thousands of survivors it left in its wake who were met with an unquantifiable hell and are forced to live through tragedy after tragedy, even to this day. Some believe that nuclear weapons are what preserve international harmony. To them, I offer the following counterargument: 'Nuclear weapons and humanity cannot coexist. Nuclear weapons are an absolute evil.'" (See longer version of this speech).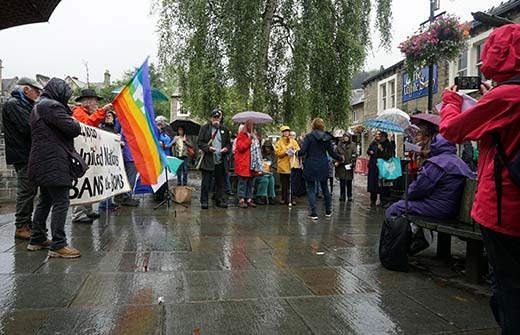 In that spirit, Calder Valley CND for Peace & Justice will be gathering to ensure that the lessons of yesterday are taken seriously by the leaders of today. Of the world's nuclear-weapon states, the United Kingdom is the third largest spender on nuclear weapons, yet remains absent from the list of nations which have endorsed the UN Treaty on the Prohibition of Nuclear Weapons (TPNW). In disregard of global moves towards peace, not only has it committed to increasing the country's nuclear warhead stockpile by 40%, but there are moves to station US nuclear weapons back on British soil. (Stop US nukes coming to Lakenheath!)
Kathy Pitt, of Hebden Bridge, says, "This is an issue close to the hearts of many of us in the Calder Valley. Hebden Royd Town Council, Todmorden Town Council and Blackshaw Head Parish Council have all passed motions of support for the UN Treaty on the Prohibition of Nuclear Weapons. This is a chance for us to reflect on why our campaign is so important for all of humanity".