Saturday, 4 November 2023

Film Festival calls for Short Film Submissions
Festival dates: 15-17 March 2024
Hebden Bridge Film Festival has called for submissions to its Short Film Competition as they announce cash prizes for its 4th edition in March 2024.
The Hebden Bridge Film Festival's annual Short Film Competition is sponsored by Vocation Brewery for a first prize of £500 while cooperative pub The Fox and Goose will award £300 for the second prize.

The festival will take place from Friday 15 to Sunday 17 March with new films from the UK and around the world. HBFF is now welcoming film submissions by or about those who dare to be different, whether they exist in the margins, sit outside the mainstream or just plain don't fit in.
We are accepting submissions for short films for HBFF 2024, in both drama and documentary. We particularly encourage submissions from women directors and strong narrative films.
Filmmakers have until Sunday 4 February 2024 to submit their entry for the competition.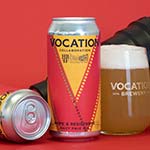 Vocation Brewery's Tom Holmes said, "We are thrilled to sponsor Hebden Bridge Film Festival for the festival's Shorts Prize of £500.
"We are delighted to support filmmakers of the future as they follow their passions, and to celebrate what the festival represents with one of our bespoke beers once again".
Louise Wadley, Film Festival director, said "Cultivating new voices and showcasing the best in feature and short films is a key part of the Hebden Bridge Film Festival. Having local firms like Vocation Brewery and The Fox and Goose is a perfect fit for the Hebden Bridge Film Festival and these cash prizes will make a real difference to the filmmakers."
2023 winner Marnie Baxter said, "I was thrilled to win the Vocation Award for Best Short. The award not only elevates our film's profile, but the prize money will go towards the development of new work, so thank you to the Vocation and all at Hebden Bridge Film Festival for hosting such a wonderful event".
Hebden Bridge Film Festival will take place from March 15-17, 2024 at the Hebden Bridge Picture House and the Hebden Bridge Town Hall. This year's festival will continue its non-conformist and artistic traditions by exploring creative innovation across feature films, shorts, industry workshops, masterclasses and more.
The full program will be announced beginning March 2024.
Submission details
Details on how to submit a short film can be found here. Shorts must be between 1 minute and 20 minutes.