Share your vision for Hebden Bridge
at the Trades debate
Developer David Fletcher joins the panel
Sunday, 26 July 2009

There's sure to a be a lively debate as a heavyweight panel sit down to discuss their vision for Hebden Bridge's future at the second Trades Club Question Time on Thursday July 30th.

The recent lively debate about the Garden Street development that led to packed public meetings and hundreds trekking to Halifax to put their case to Calderdale's planning committee highlighted the need for an open discussion about the town's future. (See Hebweb Feature on Garden Street)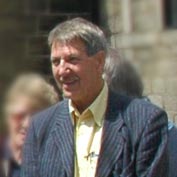 David Fletcher (pictured right) who put forward the Garden Street plans joins the panel to talk about his vision for the town and he is joined by Gwen Goddard, environmental architect Jacqui Milham and Callum Parmour who sits in the national Youth Parliament.

The Rebel Alliance touch down in the valley on Friday July 31st as DJ's Daddytone Solo, Dillenger P3PO, Princess Frank Panther, Jedi Joe Black and Obi-Wan Slackears produce a galactic mash-up of musical styles.

The Rebel DJs promise that 'dance you will' to a death star shattering mix of electro, reggae, salsa, hiphop, punkfunk and some bass heavy mind tricks mind tricks plus out this world décor by art2see2. All life forms are welcome as long they come in peace.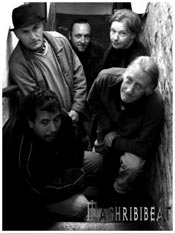 Traditional Moroccan Gnawa meets high-energy acoustic driven trance as Maghribibeat make a welcome return to the club on Saturday August 1st.

The five piece have been building a reputation as one of the best world bands in Yorkshire mixing traditional North Africa sounds with cutting edge trance. DJ Abdel Hailm El Hacimi will be supporting with an energetic mix of Rai, Maghrebi hihop and hits from across the Arab world.

"The huge debate about the Garden Street development showed that people in Hebden really care what happens to their town and the debate about our future has attracted a really heavyweight panel with very different visions for our town," Trades Club Spokesperson Paul Clarke told the Hebden Bridge Web.

"Dance fans are in for a treat this weekend as the Rebel Alliance features some of the best local DJs throwing everything into the mix and Maghribeat's mix of traditional and new sounds is always guaranteed to fill the dancefloor."

More info from 01422845265 or boxoffice@tradesclub.info
---
Listen now
See also
Hebweb Feature on Garden Street
---
Previously on Hebweb
We try to make sure that the Hebden Bridge Web news is correct,
but if you are aware of any errors or omissions, please
If you have comments on Hebweb news please make
a contribution to our
© Hebden Bridge Web