Steve Tilston
Local writer and storyteller, George Murphy interviews local characters and personalities
---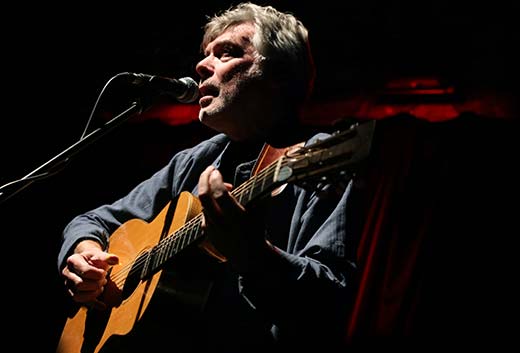 Introduction by George Murphy
Steve Tilston is one of the country's most celebrated singer songwriters, renowned for his lyrics, arrangements and brilliant guitar playing. You may also recognise him as the inspiration for the Hollywood movie, Danny Collins and I was keen to share his reflections on Lennon's 'lost letter' and his meeting with Al Pacino.
Since his debut album, An acoustic confusion, fifty years ago, Steve has produced highly regarded collections, won folk awards for male vocalist of the year and topped listeners' polls for best CD.
In 2007, a 5 CD boxed set, Reaching Back: the life and music of Steve Tilston was released by Free Reed, the company behind the Richard Thompson anthology. His early career, as part of the folk and blues scene in Bristol in the 60s and 70s, was described in Bristol Folk. His release The Reckoning gained 4 star reviews and an appearance on Later with Jools Holland.
I remember enjoying Steve's performances on the BBC's Four Songwriters Circle series. Amongst his commissions, he has written for the Olympics Radio Ballads series. Steve is also renowned for his new interpretations of old standards, many captured on Of Many Hands, his first all traditional album. He has contributed to a Guitar Maestro series of DVDs, featuring his performances and interviews.
Steve has run a London folk club called Catch 22 back in the day (he tells me that was the Bus route number) with Bert Jansz, and toured with, amongst others, Fairport Convention, John Renbourn's Ship of Fools, traditional singer Maggie Boyle (fondly remembered by Hebden folk) and appeared as a guitarist with Ballet Rambert. Not least, he has performed at our local Folk Festivals, at the Trades and at Wadsworth Community Centre. So in the interview I wanted to find out his first impressions of Hebden Bridge, and what caused him to make the Upper Valley his home. 
When we met up, I asked Steve about his novel, All for Poor Jack, which I'm enjoying, not least for its historical context. I couldn't possibly cover the whole of his illustrious career, so I've added a Steve Tilston discography, gleaned from his website and some videos of his performances. I also praised his singing and discovered his secret for keeping his voice in good working order. Enjoy!
---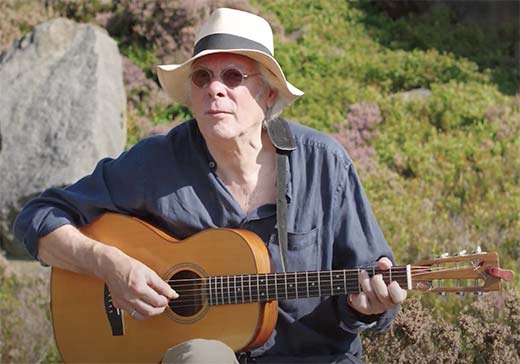 Steve Tilston Q&A
First of all Steve, how has lockdown been for you? Presumably, you've missed out on some big gigs? Have you zoomed?
Being able to ramble the moors and wooded valleys round about have been a real godsend and have afforded me quite a lot of inspiration that formed the backbone of my last record Such Times. I've done a couple of live shows so far, one a festival and one a sold out London concert at the King's Place in Kings Cross – social distancing has a number of upsides. Sadly I've had a couple of festivals cancelled, although September is looking good.
Over the last year or so I've done a number of Zoom Concerts which I've enjoyed . The last one being a spot at the New York Greenwich Village Folk Festival -  the only downside was having to wait until gone 1am before playing due to the time difference.

Growing up, I believe you had a serious illness and your mother read to you during your absences from school. Can you tell us about that time?

I had nephritis as an 8 year old and my kidneys nearly packed up, so I was hospitalised for a couple of months where I was turned into a literal pincushion with daily and nightly blood tests and injections and then a long period of convalescence followed. I remember my Ma reading me The Water Babies and King Soloman's Mines. The latter had a great effect. I think both may have given me hallucinatory dreams verging on nightmares and I have vivid memories of half closed curtains and my Ma's voice reading.
Do you remember the performers you most enjoyed in the 50s and early 60s?

My earliest recollection of being affected by music was seeing Elvis Presley's prison dance routine to Jailhouse Rock on the TV and I would have been about 8 or 9. I've loved his early music ever since, not least for Scotty Moore's guitar playing.
Being originally from Liverpool, I was much taken with the Beatles. There were so many great bands from that era. It was then I was inspired to get a guitar, as were most of my school friends.
In 64 Dylan made an impact, and I was fortunate to see his solo show at the Leicester de Montfort Hall in May 1965. A few weeks later, I saw Bert Jansch and John Renbourn at the local Folk Club and at the tender age of 15 my musical road map was laid before me.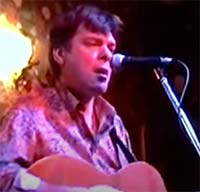 You made a living from music as a young man. Were you playing folk music back then?

I've made a living out of music for just over 50 years. It has been an exercise in feast and famine, but I always seemed to survive. I suppose folk/roots music has in many ways informed my music all along, but not to the exclusion of other genres
Please explain how you think swimming improved your singing. Have you got some favourite swimming places?

I took it up seriously at 30 years of age after a typical dissolute teens and twenties and straight away noticed an increase in lung capacity that gave my singing a lot more power and resonance. There are a few places round about that are good for wild swimming, but I do love the sea.
Slips, jigs and reels has been your most requested song. Has it been recorded by other artists?
I've lost count of the number of covers of that song. About 10 years ago it was over 100. It's dropped off quite considerably since then. Strangely though, its not typical of my main body of work in that it's written in the style of a traditional ballad.
When did you settle in Upper Calder? What drew you here?

I first came across Hebden Bridge sometime in the 80s when I played the Trades Club as a member of Ship of Fools along with John Renbourn, Tony Roberts and Maggie Boyle. I remember peering through the smoke rings at the audience and thinking 'this aint Yorkshire, it's Amsterdam 1972! I was very impressed by the aspect of the town and thought that one day I might move here.
Eventually I moved from Bristol up to near Haworth in 1989, my intention was to move to Hebden early on, but through various reasons it didn't happen until 2005. I'm so glad I finally made it over the moor – the coffee's far better over here..
You've developed a good working relationship with Wadsworth Community Centre?

Yes, it's a great local resource, just down the road from me and I've managed to do a number of Live Zoom shows from there. I did a proper concert a couple of years back and another has been mooted for sometime in the not too distant...

Ben Myers sent you a note about The Gallows Pole novel?

When I first moved here I got a library book titled Clip a Bright Guinea, all about the Cragg Vale Coiners. I subsequently wrote a song called The King of The Coiners and it became quite popular on the folk scene and was often requested. When I heard that Ben had written a novel about the same subject I read it, really liked it and got in touch to congratulate him. He wrote back to say that my song had been a big influence on him writing the book in the first place. I think I called him the Cormac McCarthy of Calderdale. Nowadays we seem to mostly bump into each other at certain swimming spots, complete with speedos.
What's your next project, Steve?

I've not long had my album Such Times released, so I'm enjoying having cleared the decks and not rushing to write anything for a while. I've spent most of my adult life wandering around with a bunch of unfinished songs cluttering my brain-box, so it's good to just take stock for a while – the problem being that inspiration is seldom convenient when it comes knocking.

What makes you laugh?

Fortunately too many things to list. Let's just say it mostly balances out the crap. Grandkids seem to be a great source of amusement. I fell in the Shibden park boating lake the other day, so I was the object of slapstick humour for my youngest grandson and my wife Marg.
Here's a tough one. Cast away on a desert island, which record would you save from the waves?

You're right it is tough. Today it'll have to be Blue, Joni Mitchell - as I just heard River. Tomorrow it could be Bringing it all back home, Bob Dylan. Not least for Mr Tambourine Man – I'd like to think I could still dance beneath the diamond sky with one hand waving free – although my knees might protest!

I'm allowing you a record player and a guitar, but which book would you rescue? How would you cope with isolation?

Has to be Robinson Crusoe – I'll be looking for pointers.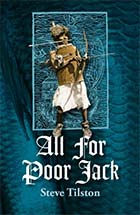 Your novel, All for Poor Jack is set in 1485. Can you explain the historical background to the story?

When I lived in Bristol I was very aware of John Cabot and a Bristolian crew's sailing 'The Mathew' to the coast of mainland America in 1497. What later became apparent was that he used a Bristolian crew because fishermen from that city had been fishing the Grand Banks for a number of years. It was not a case of being fanciful on my part. There's quite a lot of evidence to support this, so my novel was set around a shipwreck off the American coast and the trials and tribulations of a couple of survivors.
The unearthing of that letter from John Lennon must have come as a shock. It must have been galling to see John's telephone number after the letter came to light?

It surely was a maelstrom of mixed emotions -  anger, frustration, regret and sadness that I couldn't ring that number, as I surely would have done all those years ago. The realisation that chronologically I was now old enough to be his father was a strange feeling. Countless 'what ifs' came to mind, but in the end I just had to let it go. Of course the realisation that if I had received the letter, the film Danny Collins wouldn't have happened along with certain attendant benefits.
Steve, how do you go about the process of songwriting? Do you start with the tune or the words?
Every which way you could imagine, but usually a musical and lyrical phrase will dovetail into something useable.
You must be proud to have such a musical family?

Yes of course, but a plumber or an electrician wouldn't go amiss.
Thanks Steve Tilston, for this interview and for entertaining us with your music. It seems appropriate to close with a taster from Such Times, included in this excellent film by our own Peter Dilley, aided and abetted by our gorgeous scenery and our occasionally delightful weather.
Steve's Discography
Such Times, Distant Days, The Janus Game, Truth to Tell, Happenstance, The Oxenhope EP, The Reckoning, Ziggurat, Reaching Back, Of Many Hands, Such & Such, Live Hemistry, The Greening Wind, Fully Chromatic, Solorubato, All Under the Sun, And So It Goes, Of More and Mesa, Swans at Coole, Ship of Fools, Silently the Snow Falls, The Music of O'Carolan, Life by Misadventure, In for a Penny, In for a Pound, Songs from the Dress Rehearsal, Collection, An Acoustic Confusion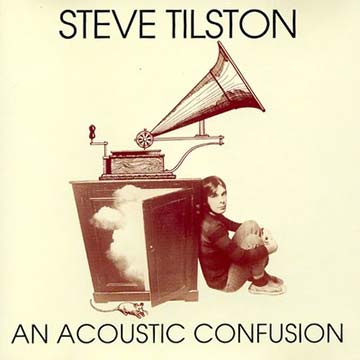 ---
More HebWeb interviews from George Murphy
If you would like to send a message about this interview or suggest ideas for further interviews, please email George Murphy