Local Primary School results
Friday, December 2, 2005
Planning Watch: yet more apartments
Heptonstall Road
Wednesday, November 30, 2005
Robin Hood closure
Monday, November 28, 2005
Children's Centre for Hebden Bridge?
Monday, November 28, 2005
Mytholmroyd Fire Station
Appeal for help to stop closure
Saturday, November 26, 2005
MP welcomes new crackdown
on drink problems
Friday, November 25, 2005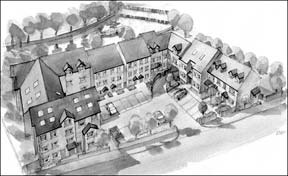 Large re-development
planned for Victoria Road
More info
Sunday, November 20, 2005
Local broadband coop, 3-C
starts skill-sharing sessions
Thursday, November 17, 2005
Mill Pond - planning application goes in. See Planning Watch
Friday, November 11, 2005
Chris McCafferty MP votes against 90 days detention without trial - see news and discussion Thursday, November 10, 2005
Lindsay Rimer
11 years and still no arrest
Lindsay Rimer went missing 11 years ago this month on 7th November 1994. Once again, her mother Geri leafleted those attending the bonfire, asking people to come forward if they knew anything about Lindsay's murder.
Hebweb feature

Calder High School gets top marks
Monday, November 7, 2005
Glyn Hughes: new collection of poems
Wednesday, October 26, 2005
Big Green Week
Tuesday, October 25, 2005
Project combining Poetry and Animation
seeks participants
Wednesday, October 12, 2005
Nearly one year after Chainsaw Tuesday, Mango submit plans for building over the Hebden Water, next to Victoria Road playground - see Planning Watch
Monday, October 10, 2005
MP calls for action against firework thugs
Saturday, October 8, 2005
Hebden Bridge: "Vibrant Cultural Hotspot"
see News in Brief - 6 Oct
Ladbrokes takeover of Yorkshire Bank building - see Planning Watch for details of 2 planning proposals, and how to object online - see also discussion forum and news in brief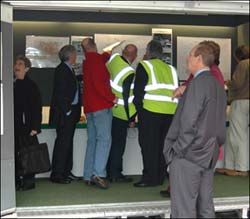 Keighley Road parking : revised proposals on display in Lees Yard today fail to satisfy residents
Tuesday, October 4, 2005
Plath Sketch of Ted Hughes fetches £27,600 at auction - more info
Tuesday, October 4, 2005
NEW section
Hebweb radio and video clips
Vince Robson - The Calder Valley has lost one of its most colourful characters with the death of Vince Robson, former sound engineer at the Trades
23rd Sept
Hit and Run caught on mobile phone - see News in Brief - 20 Sept
Star Trek spoof - Jean-Luc photo auction - see News in Brief
Wednesday, September 14, 2005
Closure of Mytholmroyd Fire Station
confirms MP's worst fears
Wednesday, September 14, 2005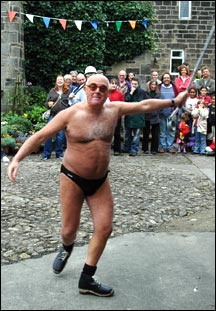 Heptonstall Festival's own Calendar Boy, Prof Sydney Roper, performing the alternative Pace Egg Play with the Heptonstall Players - more photos Saturday, September 10, 2005
"LET'S MOVE TO . . . Hebden Bridge" - from the Guardian, Saturday, September 3, 2005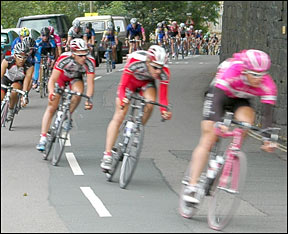 Tour of Britain passes through Hebden Bridge
More info and photos (1 Sept)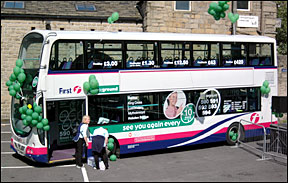 One of the new fleet of local buses
being exhibited by First in Lees Yard - 20 Au

KEEP THE MILLPOND GREEN
Background to the campaign, and full details of how to object online. www.greenmillpond.co.uk - before 9th December
ARTS FESTIVAL 2006 - latest info about dates, booking events, joining the board and open meeting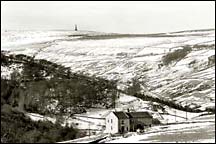 The Winter issue of Milltown Memories
now available from local shops and online
Higher Cloughfoot Barn - 3 self contained holiday lets, panoramic views, ideal for walkers and cyclists.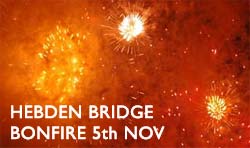 Discussion
Current main debate: do we want Ladbrokes, and anti-social behaviour? Also, closure of the Robin Hood, Keighley Road parking, spelling and much more. Discussion forum

The Hebden Bridge Fairtrade Directory is now online, together with information about the Fairtrade Forum, and how to get involved.
Monday, October 24, 2005


CHAINSAW TUESDAY
One year ago
See news from October 19, 2004
and subsequent Hebweb coverage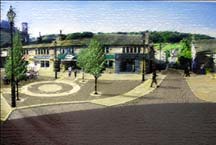 St. George's Square after pedestrianisation
Artist's impression - larger version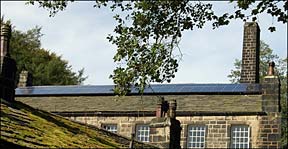 Gibson Mill re-opens - with solar panels on the roof (see above), a full array of sustainable technologies, cafe and exhibitions. See news item and features and listen to Radio 4 item. Updated 5th October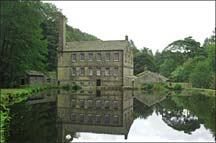 Is your new Autumn wardrobe stuck in the EU clothes mountain? Don't despair. Why not call in at the Berringden Brow pop-in shop. Listen to an excerpt - or subscribe to the podcast.
The winter programme for the Hebden Bridge History Society is now on their website - and on the Hebweb events page.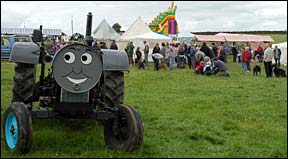 Blackshaw Head Fete (27 Aug)
Updated: Useful and online reference page - plan your road, rail, bus or cycling journey, check the cinema, weather, phone or postcode. Fax your MP or councillor. And more.
New: GREEN PAGES FORUM
To discuss green and environmental issues
See Green Pages

Gone Walkabout by Anna Carlisle
£6 - buy online now - More info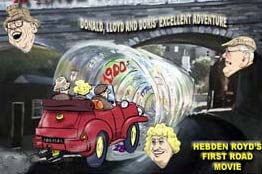 A Race Through Time
Video/DVD documentary featuring Hebden Bridge and Mytholmroyd from Nick Wilding - more info
Hebden Bridge has most individuality and character according to survey of towns being cloned by global chain stores - news and links to national coverage and reactions from our MP, Mayor and Ward councillor (updated 7th June).
See also: Hebden Bridge: 4th funkiest town in the World!

"Step one: bulldoze an area of ancient woodland and kill every living thing. Step two: build shoddy detached houses of no architectural merit whatsoever"
John Morrison in "Milltown: an Unreliable History". Read more
"What a clear, informative, friendly site. It's also inspiring to see people working together to create community - where HB leads the rest will follow?"
Message to Hebweb