HB Partnership to give platform to 20 local community organisations. A whistle-stop tour of community life in Hebden Bridge is promised next Monday (Oct 5th) when more then twenty local organisations will talkabout their activities and plans.
Elected mayor for Calderdale - see news
Calderdale to cut carbon emissions by 10% in 2010 - see news
VICTORY FOR CAMPAIGNERS: Central Library and archive to stay where it is. Consultation showed that 95% of the public wanted this. Read more. - 2 Oct
Calderdale stays Conservative - see news and forum
| | |
| --- | --- |
| The first planning meeting for the 2010 Big Green Weekend will take place at 3pm this Friday, 2nd October, at the Hole in T'Wall - read more | |
Can Labour survive? - report of public meeting in Hebden Bridge - 25 Sept
KERBSIDE: Independent report censures Calderdale. "I will get to the bottom of what went wrong and do everything in my power to make sure this does not happen again." says Calderdale Chief Executive, Owen Williams More info - 23 Sept, 10 am
Updated with statements from Labour's Cllr Tim Swift and Conservative's Cllr Stephen Baines

Sounding the alarm call for climate action - Hebden Bridge was part of a wave of local events throughout the world. Photos and audio interview.
| | |
| --- | --- |
| CANDIDATE ACCUSED OF HITTING PUPIL: Controversial Labour candidate Steph Booth is accused by the Mail on Sunday of losing her job as a school teacher following claims that she hit a pupil. Read more | |
| | |
| --- | --- |
| | The popular local book, GONE WALKABOUT: 24 walks around Hebden Bridge and the Upper Calder Valley by Anna Carlisle has been revised and reprinted. See books for more info and to buy now. |
Police seeking missing Burnley woman thought to be in Hebden Bridge area - see news for more info. Update: now found safe and back with her family
| | |
| --- | --- |
| The Hebweb is receiving photos of a strangely coloured River Calder. Here's one from Rob Lycet. And another - see news for more info | |
| | |
| --- | --- |
| Local film producer Nick Wilding to show extraordinary unseen images of Fred Dibnah at the Picture House: Fred Dibnah: The Hebden Bridge Connection More info - 9 Sept | |
Heritage Open Day: Great Stubb, Mytholmroyd - a rare opportunity to visit this listed building - see Whats On?
Great Green and Ethical Trade Markets in Tod and Halifax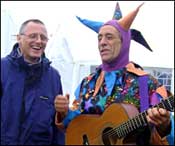 Blackshawhead Fete: Rainy weather does't stop the people of Blackshawhead having a good time!
TV, radio, phone and electricity problems now resolved - see news
| | |
| --- | --- |
| Plans to develop the Hebden Bridge Town Hall complex as a centre for community life received a major boost this week, with news of two significant grants. More info - 5 Sept | |
Plans resubmitted by Oxford Bingo for a ground floor wine bar and bistro with 3 flats above on land almost opposite Post Office, and facing Riverside School. See Planning Watch - 4 Sept
Health Centre offers online appointment making and prescription ordering - but only for those who have verified their identity in person with two forms of ID! More info - 3 Sept


More info about new term of creative courses at Northlight Art Studios Cooperative, Valley Road
Hebden Bridge Library goes Incredible Edible - more info - 27 August
Police and the community meeting - report - 21 August
Small Ads "Hebweb comes up trumps again. Within a week of advertising my house I've had several enquiries and found two couples as suitable tenants." Steve F
| | |
| --- | --- |
| Life Class by Glyn Hughes. New work, featuring the Calder Valley from the award winning local author author of Millstone Grit, Where I used to Play on the Green and others. More info | |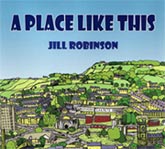 Mytholmroyd author Jill Robinson brings out third Berringden Brow book - the location is strikingly familiar - more info - 18 August
Park railings facelift thanks to Community Payback
Hebweb photos: see recent galleries. Arts Festival, Handmade Parade, Big Green Weekend, Pace Egg plays and much more
Police target drunken behaviour in Hebden Bridge - see news (20 July)
Often first with the news - many of the news items appeared here on the Hebweb days before other local news outlets.
CLIMATE CRUNCH - mass civil disobedience will be on the agenda at the Trades (Thurs 8th Oct) as local green activists discuss plans to blockade power station. - see Whats On?
Information superhighway or rural backwater? - public meeting (Oct 5th) in Mytholmroyd to discuss the next generation of broadband - see Whats On?
England vs Ukraine on Trades big screen. This Saturday10th Oct - see news
The Great Climate Swoop - meeting on 8th Oct at the Trades about Mass Civil Disobedience to blockade Ratcliffe-on-Soar coal-fired power station. See "What's On"
WARD FORUMS - Calderdale arranges local meetings to have your say about local issues such as schools, roads, street cleaning and anything else important to you. Read more.- 3 Oct
BOOK NEWS - top ten bestsellers and all the latest news from our popular Hebden Bridge bookshop, along with new titles for October - 2 Oct
Friends of Town Hall plan open doors on Thursday, 8th October. Musicians, entertainers and local historians will be there to help provide a good atmosphere. Read more
Small Ads currently include pottery kiln, dog crate and large bean bag for sale, accommodation wanted and offered, marketing help, and more.
| | |
| --- | --- |
| One of England's smallest parishes makes big contribution towards Hebden Bridge's Town Hall project. More info - 24 Sept | |
Central Library and Archives: overwhelming support for keeping Central Library and archive in place. Campaigners to lobby as council meets to make its decision on 1st October - 28 Sept
Report of community meeting with police:
speed cameras now used in Hebden Bridge; new van in operation with CCTV facilities; vast amounts of alcohol seized; plain clothes officers target off-licences; a spate of bike thefts, clamping of vehicles not showing tax discs, and much more. - 22 Sept
Victoria Road demolition - see Planning Watch
The 2010 Luddenden Calendar - see news
Free swimming lessons for over 16s - see news
Calderdale to give away 200 tons of compost - see news for more info
Hebweb on Twitter - new: follow updates to the Hebden Bridge Web on Twitter
Five hundred words on Hebden Bridge - new entry added - one of the 500 years of the Hebden pack horse bridge projects - 17 Sept
Local history winter programme - - see Whats On
Walkers' Weekend a "success" with "extremely positive response from walkers". Read more
'HEBDEN BRIDGE IS
A PIONEER TOWN'
says Kate Ashbrook, patron of the Walkers Are Welcome Towns Network and general secretary of the Open Spaces Society, who spokeat the Walkers Are Welcome Weekend in Hebden Bridge. Read more
| | |
| --- | --- |
| | Summat A' Nowt by Steve Murty: 1,000 years of history, focusing on a tiny hamlet between Mytholmroyd and Hebden Bridge, whose origins go back to Norman times. |
Walking Weekend: No less than thirty walks were on offer, ranging from short strolls around the town to all-day hikes in the surrounding hills and moors. Those interested in archaeology and history were able to visit Bronze Age settlements and the site of a medieval deer park, there were riverside walks woodland walks for families and more
Riding For The Disabled in Old Town began its new term on Monday, 7th September
More info
Forum: Green candidate Kate Sweeney reports that early evidence suggests the 20 mph zone reduces accidents by 25% - 7 Sept
Horror Films wanted for Halloween Screening - see news - 6 Sept
| | |
| --- | --- |
| Luddenden's annual Mayor Making will take place on Saturday 12th September. | |
Central Street - the saga continues. See Forum
Small Ads "Choosing to advertise the house for rent on the Hebweb was incredibly effective. The perfect tenants were found within 48 hours" - Jason E, (12 Aug) Ads currently include houses wanted and to rent, car for sale, help wanted, carer seeks work, first aid for outdoors, yurt for hire, Indian cooking and more.
Updated: Hebweb directories of local websites. See alphabetical or by category including: services, therapists, shopping, leisure, community, music and more
Women only singing group at the Little Theatre - see news - 12 August

Above: Question Time at the Trades - read report
Arts Festival - planning to start for 2010. More info for those wishing to get involved.
'Zero Carbon' homes for Hebden Bridge (9 July)
Colden Valley's "Enchanted Forest". A Sculpture Trail created by the children of Hebden Royd Primary School. More info and photos

(9 July)
Hebden Bridge Coop - will "Exciting New Look" satisfy Facebook critics?
Former Adult Education Building in Pitt Street for sale again. Asking price: £275,000. See Hebweb News from February 2005: Pitt Street Squatted - 2 July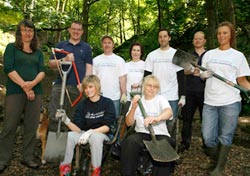 Nutclough Woods gets corporate help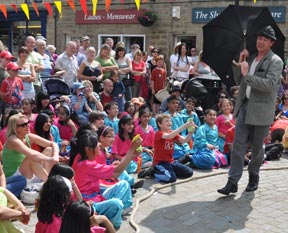 ARTS FESTIVAL LAUNCH - a great day of sunshine and street events in the square - see gallery of photos