Gong Legend Daevid Allen plays the Trades
Sunday, 27 September 2009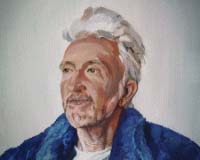 Legendary Gong Frontman Daevid Allen tops the bill at the Mental Elf extravaganza at the Trades Club on Friday 2nd October.

Allen made his name as the creative genius behind Gong who many critics say were Britain's greatest ever psychedelic rock band and is a playing rare date in Yorkshire with his band the Magick Bros.

He is bringing along his trademark glissando guitar promising an odyssey through his greatest hits and some new material backed by the Magick Bros playing a dizzying array of instruments including violin, flute, whistle and even a didgeridoo,

Underground roots DJs Pat Trash and Red J from Trailer Trash kick the night off before handing over to local boys Tetchi for a rare live set.

A very busy weekend kicks off with the hotly contested Trades quiz and curry night on Thursday 1 October as the teams sizes battle to win the dodgiest quiz prizes in the Valley.


Welsh rock stalwarts Man make a welcome return to the club on Saturday 3 October with their unique mix of bluesy and soulful anthems.

Man formed in the late 60s before packing it at the end of the 70s as the punk wars raged and then got back together in the early 80s saying they has some unfinished business with the music industry.

They've been through more line-ups than you can shake a stick at giving rock genealogist Pete Frame nightmares but this line up features long serving members Martin Ace on bass and keyboardist Phil Ryan.
The weekend line up is completed by another visit from dub/dance pioneers Zion Train on Sunday 4 October and last time they came to the valley the gig was sold out well in advance.

Zion Train were one of the leaders of the alternative DIY underground music scene developing into one of the finest live dub acts in the world promoting the art of onstage mixing performed alongside acoustic instruments.

"This is one of the best weekend bills we've had for some time with literally something for everyone so we're expecting full houses every night," Trades Club Spokesperson Paul Clarke told the Hebden Bridge Web.

"The word legend is often overused but there's no doubt that Daevid Allen does qualify not only for his trailblazing work with Gong but for a typically idiosyncratic solo career.

"We're delighted that Man are coming back to the club as we are always trying to bring in top class acts for the hundreds of rock fans along the valley who are in for a real treat with this lot.

"The last time Zion Train came we were turning people away so I'd advise early booking at the club or online as I thought their show was one of the top five gigs of last year."
More info from 01422845265 or boxoffice@tradesclub.info
---
Listen now
---
Previously on Hebweb
We try to make sure that the Hebden Bridge Web news is correct,
but if you are aware of any errors or omissions, please
If you have comments on Hebweb news please make
a contribution to our
© Hebden Bridge Web