Chumbawamba, Hazel O'Connor and more at the Trades
It's a weekend of hits at the Trades this week as chart stars Chumbawamba, Hazel O'Connor and Ex-Seahorses frontman Chris Helme visit the valley.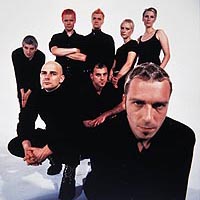 Chumbawamba who are first up on Thursday 25 March are most famous for their surprise smash hit 'Tubthumping' and dumping an ice bucket over the head of former Deputy Primer Minister John Prescott at the Brit awards.
But the anarchist pop stars have been going for nearly three decades producing a series of critically acclaimed albums tackling a whole a host of progressive issues and not being afraid to take on fascists even when they are in suits.
They're on the road promoting their latest album 'ABCDEFG' using the history of music in this country as a way of venting their spleen on a range of targets including wearing iPods in public places, censorship of music in repressive regimes and how we can give Simon Cowell his come-uppance.
Quality support comes from up and coming local folk duo Belinda O'Hooley and Heidi Tidow who have been getting rave reviews in the national press for their debut album 'Silent June.' The dapper suited gentlewomen promise a set of original songs packed with their wry, melancholic and at times uncomfortable take on life.
Chris Helme is on the road non-stop dropping off at the club on Friday 26 March but he blasted onto the music scene as the frontman for guitar legend John Squires' post Stone Roses project The Seahorses. Their debut album 'Do It Yourself went to Number Two on the back of the Madchester hysteria and Helme's vocal style was one of defining voices of the Britpop era.
Since quitting the band he has toured relentless clocking up 130 shows last year and Fly Magazine said he was 'one of the most eloquent and raucously British voices in the last decade.'
The hits just keep coming on Saturday 27 March when Hazel O'Connor drops by to celebrate 30 years since the release of her multi platinum selling album 'Breaking Glass.'
Hazel will be backed by Saxophonist Clare Hirst who backed David Bowie and former Eurhythmic Sarah Fisher on keyboards who collectively tour as the Bluja Project. As well as reinventing ageless hits Like 'Will You' expect to be enchanted by their take on classic songs including My Funny Valentine', 'God Bless the Child' and a haunting version of Snow Patrol's 'Chasing Cars.'
"This must be one of the strongest weekends we've had for a while and you can expect to hear hit after hit from three acts who have decades of experience on the road," Trades Club spokesperson Paul Clarke told the Hebden Bridge Web.
"The Trades is a prefect place for Chumbawamba to play as we share many of the progressive values they have never been afraid to stand up for but we will be hiding our ice buckets.
"Chris Helme may have had a meteoric rise to the top with The Seahorses but he is now a brilliant solo performer and Hazel O'Connor is simply one of Britain's greatest ever vocalists with a glittering career that has even won her the freedom of her hometown Coventry."
More info from 01422 845265 or Trades Club Box Office
Listen/watch now