Sunfish, Fay Hield, Chris Lynam, Bethany Black and Quiz at the Trades
Sunday, 21 February 2010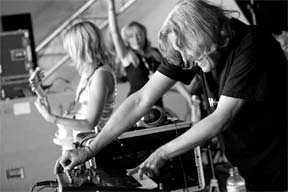 Psychedelic techno giants Sunfish swim into Hebden Bridge Trades club promising a set full of 'psy trance with a twist.'
Sunfish play the club on Friday 26th February and were formed in the summer of 1997 in Totnes when Jon Kerry decided on synths, computers and projected visuals as his vehicle to bring twisted trance to the masses.
Since then Sunfish have released bets selling albums via the internet and become one of the most popular live acts on the underground festival circuit.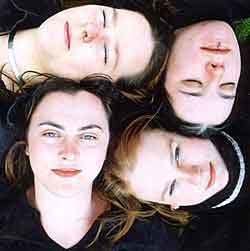 The week kicks off with a rare midweek gig on Wednesday 24th February with a solo gig from Witches of Elswick main woman Fay Hield who is also one of leading lights in the English Folk Revival.
Fay is making the short trip from her home in Keighley and is joined by Bellowhead's Sam Sweeney on fiddle and concertina virtuoso Rob Harbron who is a mainstay of the English Acoustic Collective.
As a special treat for folk fans top quality support comes from Bellowhead fiddler and BBC Folk Singer of the Year Jon Boden playing songs from his acclaimed solo album 'Songs from the Floodplain.'
Due to Glen Tilbrook visiting the club next week the monthly quiz is a week early on Thursday 25th February but it's the usual messy mix of curries, banter and a devilishly tough music round.
Cabaret Heaven has consistently booked top acts over the last year and Saturday 27th February it's time to run for your lives as Chris Lynam, billed as the 'Beast of Comedy', visits the valley.
The Beast's exquisite grasp of the grotesque and willingness to go where few other comics will go have made Chris a genuine comedy legend. His shows range from hilarious to beauty including pyrotechnics, acrobatics, nudity and even attacks on the audience!
He's joined by Bethany Black who describes herself as Britain's only 'goth, lesbian, transsexual comedian' and comes with a reputation for black comedy tackling some very difficult subjects.
Thankfully if the show all gets a bit too weird then regular hosts Peggy and Bernard will be on hand with a few surprises and guest DJs.
"The Trades have really got behind the English Folk Revival so it's a delight to welcome Fay Hield who is one of the leading figures in that movement and it's a double delight to see the incredibly talented Jon Boden as her support act,' Trades Club spokesperson Paul Clarke told the Hebden Bridge Web.
"Sunfish are playing the club as one of our regular fundraisers for the Bearded Theory Festival and they come with a fiercesome reputation as a live act backed by some incredible visuals.
"Chris Lynam is one of the greats of British comedy but given the unpredictable nature of his show I'm not sure who is going to be brave enough to sit on the front row!"
More info from 01422 845265 or Trades Club Box Office
Listen now