Handmade Parade postponed, due to floods. Now on Saturday, 30th June - more info
Prepare to be enchanted by the biggest and best Handmade Parade yet
Tuesday, 19 June 2012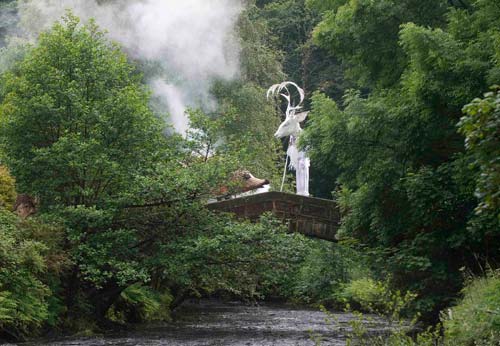 MORE THAN 700 PEOPLE will be taking part in what organisers hope will be the biggest and best-ever Hebden Bridge Handmade Parade on Saturday (June 23).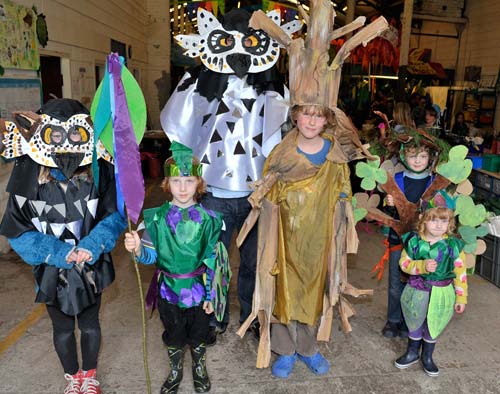 The eye-popping, toe-tapping parade will feature amazing giant puppets, dazzling artwork, great bands and crazy costumes.
This year's parade theme is The Enchanted Wood and, among the creations on display, will be a leaf dragon, a white stag, a winter goddess and giant inflatable flowers.
The parade will be split into four sections following The Enchanted Wood through the seasons from summer, autumn, winter and into spring. Expect to see woodland warriors, wolves on wheels and dancing bluebells in this unique walking wood.
Hundreds of people will be taking part in the parade, which begins at 2pm. Thousands more are expected to line the route along Victoria Road, Valley Road, Bridge Gate and Holme Street to Calder Holmes Park.
The Handmade Parade Street Band, led by Peadar Long, and the Handmade Parade Samba Band will be joined by bands such as Blowjangles, Drum Machine and Beatlife from Liverpool, who will all be getting those dancing feet moving.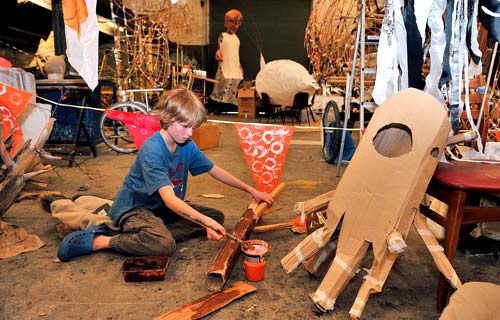 Organisers are urging spectators to try to spread out along the entire route and stress that the best vantage points, particularly for those with children, will be Valley Road and Holme Street.
Once the parade reaches the park, there will be a spectacular finale and festival featuring local performers and food and produce from 3pm to 6pm.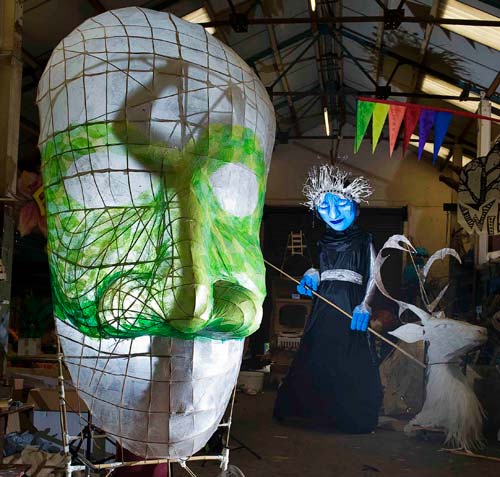 Among those performing at the park will be the Hill Millies, The Three Valleys Gospel Choir and Calder Valley Voices. There will also be musical sets from each of the parade bands. Local food producers, including Hanuman Thai, The Bear Café and Pextenement Cheese, will be serving up their delights for the picnic. Among the tasty treats are on offer will be veggie burgers, Indian snacks and wood-fired pizzas. Tea and coffee will also be available and Incredible Edible and Calder Food Hub will be spreading the word about their work.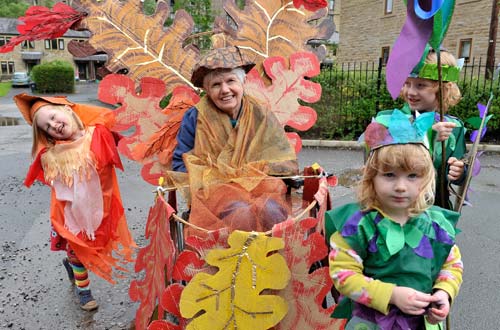 Hundreds of people - adults, teenagers and children - have attended open workshops to create the spectacular parade art and eye-catching costumes, with the help of professional parade artists.
If anyone hasn't yet made a costume but would like to take part in the parade, the last open workshops are being held this evening (June 21) from 4pm to 6pm, and 7pm to 9pm. Those taking part in the parade are asked to be at the workshops at 1pm on Saturday. Organisers are encouraging those taking part or watching to walk or use public transport.
Photos
See HebWeb Gallery of photos 2011 - 2 March 2012
HebWeb Photos of Handmade Parade 2010
HebWeb Photos of Handmade Parade 2009
HebWeb Photos of Handmade Parade 2008
See also
HebWeb News: Handmade Parade 2012: Come and make magic in The Enchanted Wood (29 May 2012)
HebWeb News: Handmade Parade 2012: Join the skills classes (1st May 2012)
HebWeb News: Parade Spark Day is a Hit (March 2012)
HebWeb News: Handmade Parade to go ahead on 23 June
HebWeb News: The Fabulous Feast delights Hebden Bridge - June 2011
HebWeb Forum thread - June 2011
HebWeb News: Handmade Parade: Get ready to make some mouth-watering food art - 7 June 2011
HebWeb News: Handmade Parade: Get ready to make some mouth-watering food art - 24 May 2011
HebWeb News: Handmade Parade will be a 'Fabulous Feast'
HebWeb News: Which will come first - the giant chicken or the eggs? - March 2011
HebWeb News - Feb-March 2011