Fox and Goose: Glasses are raised as co-operative pub share offer hits its target.
Monday, 12 August 2013
Pub regulars were celebrating this week after their co-operative pub share offer smashed through its target – four days before the deadline.
Around 250 pub fans and people from the wider community have invested just over £130,000 to save the well-loved Fox & Goose, in Heptonstall Road, Hebden Bridge.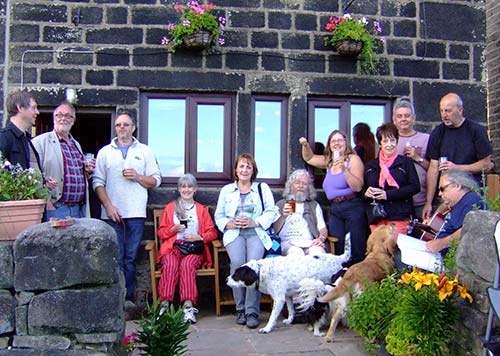 The share offer was launched at the end of June, to run for six weeks – then as momentum gathered the organisers were inundated with requests for more time to invest and extended the share offer to August 12. But a second surge in applications took the total soaring past the finish line before the final deadline, and the offer was closed early (on Thursday night).
Councillor Dave Young, Chair of the Fox Friends Steering Group said, "Everyone connected with the campaign is absolutely delighted. Although we knew there was great strength of feeling for protecting the Fox itself and also our local heritage, the response has been beyond our wildest dreams.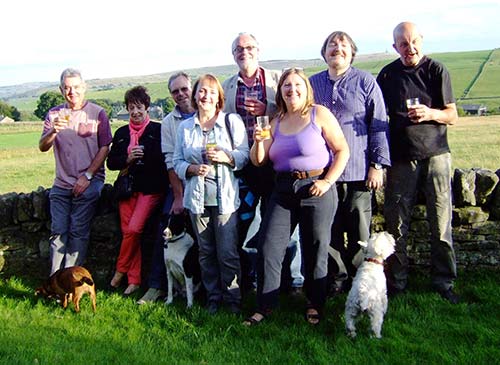 "We'd like to thank everyone who has worked so hard to make this happen, our loyal supporters, the local community, the local media and co-operative organisations – who've all played an important part in helping us get this far.  I hope those people who didn't manage to buy their shares before the offer closed are not too disappointed – they can still play a major part in protecting the Fox for future generations by coming along and supporting what should soon be West Yorkshire's first co-operative pub.
"After a brief celebration we've now got just a little bit more hard work to do over the next couple of months, to complete the formalities and secure the pub on behalf of the community."
The target was set at £130,000 to buy the traditional real ale pub and to cover essential refurbishments – although nothing will be done which would change the traditional character of the historic hostelry.
About half of the investors are from Hebden Bridge itself, with others coming from across Calderdale and the rest of Yorkshire – but there are also funders from as far afield as London, Nottingham, Chesterfield, Stratford and Burton upon Trent.
Unlike many of the pubs saved by communities across the UK, the Fox and Goose is still very much open for business, but it is under threat because of the deteriorating health of the landlady. There are now more than 20 co-operative pubs in the UK and, so far, not one has had to close.
The Fox and Goose is steeped in history – with records of an ale house on the site going back to medieval times and Calderdale Council has formally listed the pub as a community asset, which means the local community has to be given first option to buy it.
Previously, on the HebWeb
HebWeb News: Extra time called as shares bonanza puts co-op pub on target (30 July 2013)
HebWeb News: Last orders call as co-op pub share offer enters final leg. (25 July 2013)
HebWeb News: Fox Friends stall in George's Square (19 July 2013)
HebWeb News: Fox and Goose: Share Offer Launched to buy Community Pub (17 June 2013)
HebWeb News: Fox and Goose: Share Offer Launched to buy Community Pub (1 May 2013)
HebWeb News: Fox Friends back Co-operative Pub plans (Sept 2012)
HebWeb News - All aboard for the Fox Friends Beer Bus beano
HebWeb News: Fox Friends Drink to the Dirty Half Dozen (5 April 2012)
HebWeb News: Fox and Goose Pub Co-op
HebWeb Forum: Fox and Goose Pub Co-op (Jan-March 2012)