Friday, 23 August 2013

Arts Festival thanks sponsors
Hebden Bridge Arts Festival have thanked their sponsors who helped them attract more than 11,000 people to events in a record number of local venues.
In a tough climate for arts funding the festival team attracted essential support from the Hebden Royd Town Council, the Arts Council England, Cape UK, Co-operative Membership, Thomson Reuters, Hebden Bridge Town Hall, Hebden Spirit and Calderdale Council.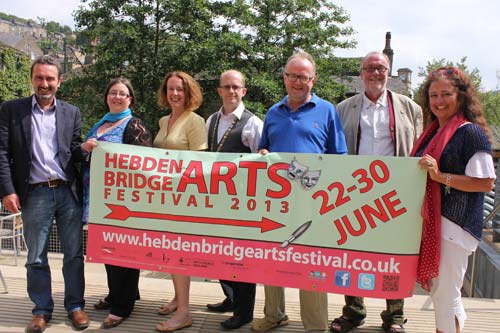 This year festival organisers reported to the sponsors that there were 56 different events put on by 206 performers in 24 different venues across the town.
Cllr James Fearon, chair of Hebden Royd's Grants Panel, said: "This year's festival was top notch with great names coming into the town alongside new work and performances for our superb local talent. It's really important to get the mix right and I think the festival's done us proud this year with something for everyone right here on our doorstep."
Local artists and schools contributed 400 pieces of Wonderwear bunting and more than 300 people turned up at 20 workshops, including the first ever Gamesfest for young gamers. Three local playwrights got their first plays performed in sell out performances of Hebden Bridge Shorts in the Little Theatre.
Co-op Membership, Cape UK and Hebden Royd Town Council contributed to the first youth festival put on by the Bridge the Gap team.
In response to tough economic climate the festival created its own crowd funding scheme offering bespoke packages, including a print by acclaimed local artist Kate Lycett, which raised £1000, and another £1500 was dropped into collection buckets by people watching the mix of local and professional acts at their two free Street Sundaes events.
Artistic Director Helen Meller said: "Without the continuing support of all our sponsors who really dug deep this year we wouldn't been able to put on such varied programme that resulted in a record number of sell out events, and we're proud that 191 local people all ages performed which was amazing.
"We want to thank all the venues and businesses who also rallied round and it was a particular joy to put on the first live event at the refurbed Birchliffe Centre, see the big crowds at all four Street Sundae venues and listen to the laughter when Daniel Kitson played the Picture House.
"The bottom line is that with the ongoing support of so many people in our community offering their financial support and time we would not have a festival. The massive support we got left our whole board incredibly touched and inspired as we prepare next year's programme."
Previously, the Festival on the HebWeb