Tonight: Hebden Bridge head to head with Sainsbury's
Tuesday, 16 September 2014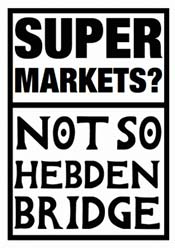 Here's the latest news release from Save our Shops
Hebden Bridge noted throughout the UK for it's quirky, unique town is going head to head with Sainsbury's tonight Tuesday 16th September, at Halifax Town Hall (Crossley St, Halifax, HX1 1UJ) at 6pm, when the decision will be made about the shopping giant's proposal to build in the town still recovering from the floods of 2012.
A local group SOS – Save Our Shops, has been working tirelessly for the last 9 months in a campaign to preserve this totally local town with massive support from locals residents and shop keepers. There have been 564 objection letters lodged with the council and only 4 letters of support. Still the recommendation from Halifax is that this supermarket planning should be accepted. This is an abuse of democracy!
Our own Hebden Royd town council rejected the planning and Sainsbury's have blatantly ignored all recommendation to meet with the town folk and to do a retail impact assessment. Hebden Bridge is one of the few remaining high streets with a thriving variety of independently run shops, where the money spent goes straight back into the local community, rather than a greedy conglomerates pocket.
Does this sound like a town in need of the urban re-generation that Sainsbury's claims to bring? – or does it sound like a town that needs another identikit retail opportunity like it needs another flood?
On top of this 35 deliveries a week down an already congested road with an 11m articulated lorry is a frightening thought for those living and working in this area.
We are expecting a huge crowd to turn out tonight to raise their banners and let Halifax town council know that a small town can have a loud and powerful voice!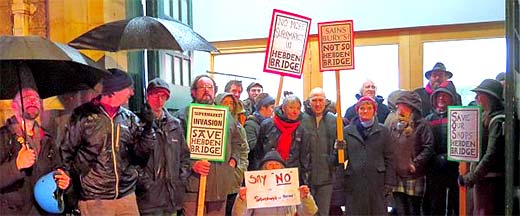 See also:
HebWeb Forum - Sainsbury's planning meeting (Sept 2014)
HebWeb News: The Alternative to Sainsburys in Hebden Bridge (8 September 2014)
HebWeb News: Sainsbury's Plans resubmitted - without Retail Impact Assessment (15 July 2014)
Calderdale Planning: Application Summary
HebWeb News: Sainsbury's plans now online (30 Jan 2014)
HebWeb Forum - Sainsburys and Tescos survey (Feb 2014)
HebWeb News: Protests as Town Council discusses the Sainsburys bid (8 Jan 2014)
HebWeb Forum - Sainsburys and Tescos
HebWeb News - Jamie Oliver in Hebden Bridge. Hecklers question the wisdom of using Hebden Bridge to advertise a supermarket chain which puts small shops out of business. (October 2009)