News in Brief 2014

Summit tunnel fire 30 years on.
This Manchester Evening News page remembers 20 Dec, 1984 when a freight train carrying petrol derailed in the railway tunnel near Walsden.
Eastwood Recycling re-opening: following discussion and questions on the HebWeb Forum, councillors have now informed HebWeb readers that the recycling centre re-opened on 23 December.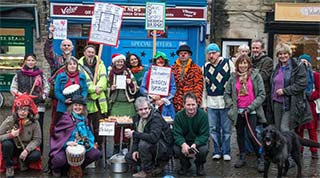 Save our Shops, no Sainsburys demo in the square, Saturday 29 November. Photo, thanks to Craig Shaw. Click to enlarge.
Outer Zeds Benefit for Carol Lewis, wife of Trevor Lewis, currently serving a 3 year jail sentence for wrecking the recycling centre. 30 Nov. See What's on for details and Forum for discussion. Update: benefit raised over £500.
Bernard Ingham describes our town as "my now unrecognisably trendy native Hebden Bridge" in a Yorkshire Post article entreating readers to vote Conservative at the next election. (10 Dec)
The Hole in the Wall's future was decided by Calderdale's planning committee on Tuesday 18 November. Permission was granted for change of use. See Planning Watch and Forum for background.

Hebden Bridge and Mytholmroyd Christmas Lights switch on.
On 20th and 21st November, Santa were joined by the Mayor of Hebden Royd and the Mytholmroyd Gala Queen to push the button. See What's on for more info.
Parliamentary Candidates debated the NHS on Thursday, 9 October at Calder High School. Josh Fenton-Glynn (Lab), Alistair MacGregor (LD), Jenny Shepherd (Gn) and MP Craig Whittaker (Con) were on the panel.
Hole in the Wall - deadline for comments were extended until Monday 6 Oct - see Forum thread with 2 new contributions today and Planning Watch (3 Oct)
Palestinian Solidarity Group: On Weds 17th September, the first meeting of a new Palestinian Solidarity Group will be held at the Trades Club with speaker, Ron Taylor whois about to return to Palestine. See What's on