Parade workshops start this weekend!
Tuesday, 12 May 2015
Fancy taking to the air in a flying machine, winging it like a bird or creating an alien space ship? If so, then get down to the Handmade Parade open workshops which begin this Saturday 16th May.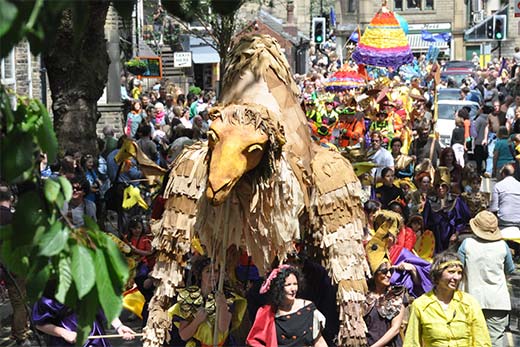 And if you'd like to learn to stilt, samba drum or join a women's street dance ensemble in the parade, there are special classes for each this year too.
The 8th annual Handmade Parade flies into Hebden Bridge on Sunday, 7 June and this year's theme is Come Fly With Us!
With nearly a thousand people expected to take part in this year's parade, organisers are urging families to be early birds to beat the crowds.
Linda Green, Chair of Handmade Parade CIC, told the HebWeb, "It's another fantastic theme and we can't wait to see people starting work on their amazing creations. The workshops tend to be very busy in the last week before the parade so if you want some space to flap your wings, please do come along to the opening sessions."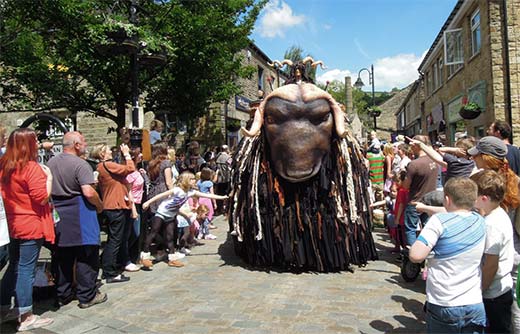 Workshop times
Open workshops for people to create their parade costumes with the help of professional artists from Handmade Parade will begin on Saturday and Sunday from 10am-12noon and 2pm-4pm.
Further workshops will be held on Tuesday 19 and Thursday 21 May from 4pm-6pm, Saturday 23 and Sunday 24 May from 10am-12noon and 2pm-4pm, half term sessions on Tuesday May 26 and Thursday May 28 from 1pm-3pm, Saturday 30 and Sunday 31 May from 10am-12noon and 2pm-4pm and the final week sessions on Tuesday 2 and Thursday 4 of June from 4-6pm with extra evening sessions for teens and adults from 7pm-9pm.
No experience is necessary but under 14s need to be accompanied by an adult. Entry is by a suggested donation of £5 per person for the first session and £1 per person for further visits.
There are also separate parade art classes running for adults and teen which people can sign up to. You'll have a chance to show off your creations or performance on the day of the parade and at the grand finale in Calder Holmes Park. No previous skills required.
Samba Drumming with Handmade Samba, Sunday May 24th 4.30-7pm, Monday May 25th-5.30-8.30pm, Monday June 1st-5.30-8.30pm, Costume making sessions on June 2 and 4, 7-9pm. Get your groove on! Join the year-round Handmade Samba Band as they prepare for the big event. All levels welcome. For ages 13+; £3 a session
Stilting with Travis Downs and Andrew Kim, Saturday and Sundays 4:30-6:30pm. May 23, 24, 30, 31, June 6. Do something amazing…learn to walk and dance on stilts. We will be training adults and children (age 10 and up) to stilt walk and make costumes for the parade and finale. For ages 10+; four sessions plus finale rehearsal £25.
Women's Street Dance Ensemble with Gil Burns, Friday May 29 6:30-8pm, Monday June 1 7-8:30pm (with Handmade Samba), Friday June 5 Fri 6:30-8pm. Costume making sessions on June 2 or 4, 7-9pm. Join local dance artist Gil Burns in creating an all women, dancing team of flighty things! Gil recently led the dance for the International Womens Day 'Break the Chain' Flashmob in Hebden Bridge. Donations will be collected after each session.
All classes are at the parade workshop. To sign up, email your name and which class you're interested in to jude@handmadeparade.co.uk.
The parade will set off at 12noon from the Handmade Parade workshops in Victoria Road and head down Valley Road, through St George's Square and Bridge Gate to finish in Calder Holmes Park, where there will be entertainment and food stalls from local vendors.
For more info on the parade classes and workshops, go to www.handmadeparade.co.uk