Sunday, 14 June 2015

Our hills are alive with the sound of nuns
Singing nuns had a song in their hearts as they descended on the Picture House to buy tickets for Sing-a-Long-a Sound of Music.
This hugely successful worldwide phenomenon encourages fans of the world's favourite musical, The Sound of Music, to dress up as their favourite characters as they sing along to the classic tunes like Edelweiss, My Favourite Things, So, Long Farewell, Maria, Sixteen Going On Seventeen and, of course, The Hills Are Alive.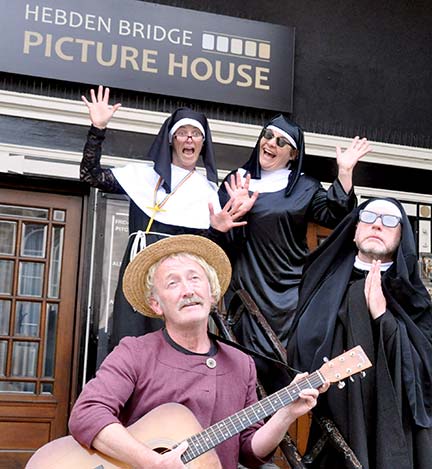 Local fans dressed as nuns were joined by Maria Von Trapp in an impromptu rendition of Do-Re-mi as they queued to get front row seats for the show's local debut in the Picture House, as part of Hebden Bridge Arts Festival, on Friday 3 July.
The format is simple - there's the pre-show warm up as the host leads the faithful through vocal rehearsals before judging the fancy dress completion, which usually attracts lots of nuns, various Von Trapp family members, and even a few Julie Andrews look-a-likes.
Then it is time for the lights to dim as the Oscar winning movie is shown with song lyrics on screen so fans can sing their hearts out as well as being encouraged to hiss at the evil countess who is engaged to Captain Von Trapp, boo the Nazis, bark at weak willed Rolf and cheer for the saintly Maria.
Festival Artistic Director Helen Meller told the HebWeb, "Millions of people have watched this show across the globe, and we thought it would be perfect for Hebden Bridge where people don't usually need an excuse to dress up.
"Costumes are not compulsory to come along, but they are highly recommended, and I can't wait to see what inventive outfits our community will come up with. The only rule at Sing-a- Long-a Sound of Music is there are no rules.
"The film is 50 years old this year, but is now a timeless classic, so this seemed a fun way to celebrate a movie that everyone has a soft spot for."
To book your tickets go to the Festival website or the festival box office in Hebden Bridge Town Hall daily from 10-5, weekends 12-3pm.
Previously, the Festival on the HebWeb