Wednesday, 15 June 2016
Handmade Parade: Last week of workshops
It's your last chance to come and create a head-turning show stopper costume for this year's Handmade Parade, with open workshops entering their final week.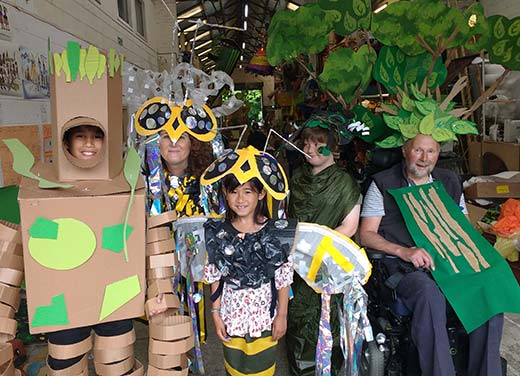 Garden-robot, Luca Lazzari-Williams, age 10 who was working with visiting artists, Cardboardia, at last weekends workshops said,  "The Russian artists made everything look easy and are great to work with. Being a garden robot feels very weird but cool".
Sunday 26 June at 12 noon
This year's parade 'Muck In!' will take over Hebden Bridge on Sunday June 26 starting at 12 noon. Luca the Garden Robot will be joined on the parade by busy bees, dung beetles and giant trees.

Expect to see amazing and outrageous things such as the Tyran of Cardboardia on a giant toilet, a giant Queen bee, a hippo mud spa and giant sun with plenty of helping hands.
Open workshops for people to create their parade costumes with the help of professional artists from Handmade Parade continue at the Victoria Road workshops, with extra evening sessions for teens and adults.

Remaining workshop dates and times:
June 14 and 16: 4-6pm
June 18 and 19: 10am-12pm and 2-4pm
June 21 and 23:  4-6pm and 7-9pm

Location: Unit 5, Victoria Works, Victoria Road, Hebden Bridge, HX7 8LN
Everyone is welcome but an adult must accompany under 13's.
Picnic in the Park
Organisers are keen to encourage everyone to make a day of it by enjoying the Picnic in the Park in Calder Holmes Park at the end of the parade from 1pm until 4pm.

There will be local food and drink vendors and producers serving a diverse range of foods; curries, burritos, vegan fare and locally reared pork. With live bands, street performers and dancers on hand to keep revellers entertained.
Please use public transport
Visitors travelling to Hebden Bridge for the parade are encouraged to use public transport. On 26 June road users are reminded that the A646 in the centre of Hebden Bridge will be closed between 12.00-12.45.
Anyone interested in being a steward on the day of the parade should contact Jude@handmadeparade.co.uk or phone 01422 844154.

For more information about this year's parade please go to: the website
See also:
HebWeb News: Theme announced for Handmade Parade 2016 21 April 2016
HebWeb News: Handmade Parade Spark Day: ideas needed for Summer Spectacular 24 Feb 2016
HebWeb News: Announcing the 9th Annual Hebden Bridge Handmade Parade! 3 Feb 2016
Previous coverage of the Handmade Parade on the HebWeb